Download Free Download Manager 32-bit 6.12.0 for Windows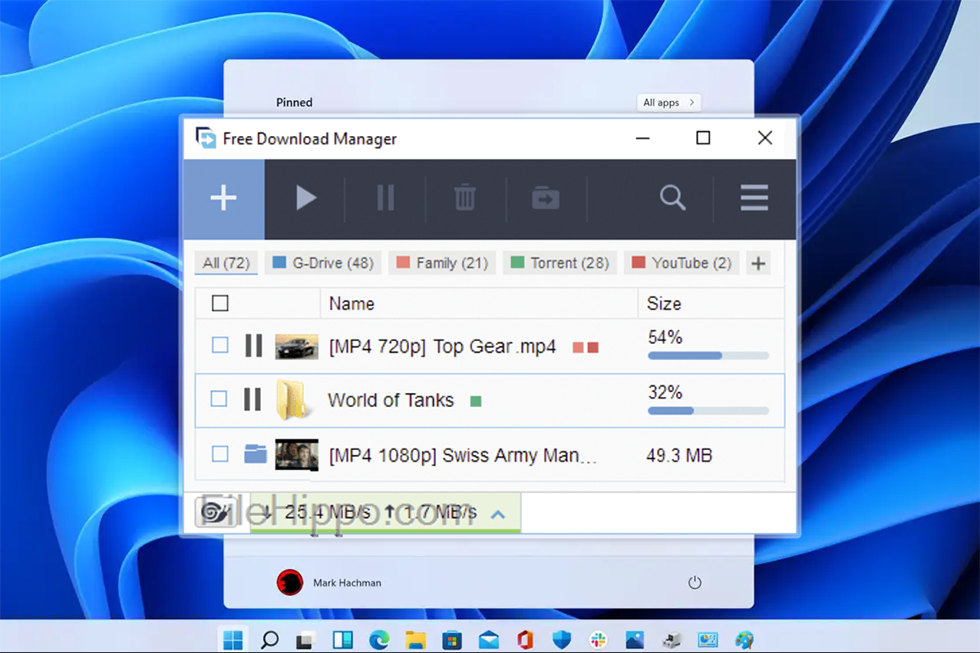 Download music, videos, and e-books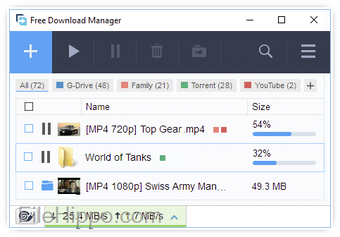 Free Download Manager, also known as FDM, is an efficient file manager and downloader for Windows users. It extends support to online media sites and lets users download documents, e-books, as well as audio and video files. All downloaded files are filed together on a single interface for easy access. The file downloader has a variety of features as well as a modern interface. It is known for its download accelerator and traffic adjuster and is also available for download on Mac OS devices.
Provides support for YouTube and BitTorrent
Free Download Manager is an open-source, fast, and reliable software used to download files from various online sources. Known for its efficient yet straightforward features, FDM is available in 30 languages and comes with an intuitive dashboard that organizes files by their type.
The tool allows users to manage multiple downloads simultaneously, adjust traffic usage, and control the program remotely. It provides BitTorrent protocol and HTTPS support, allowing you to download torrents easily.
You can even use the Free Download Manager to download files from different media websites, including YouTube, provided the copyright holder provides permission. Users can also integrate FDB with browsers like Google Chrome, Opera, as well as Internet Explorer, for easy access.
Offers a clean and simple interface
The Free Download Manager comes with a user-friendly dashboard that is easy-to-understand. It doesn't come with any add-ons but opens up to the home website for users to find options of various files that they can download.
To start the downloading process, users can either utilize the drag-and-drop functionality or click on the 'plus' icon available on the dashboard. All previous and ongoing downloads are visible on the interface via thumbnail images.
Next to the thumbnail, users can find the progress bar as well as the downloading speed. In case you want to find a particular file, you can easily do so using the search bar available on the top. With the help of the dashboard, users can also convert downloaded files into different file formats.
Enables high-speed downloads
Known for its download accelerator, the Free Download Manager splits one file into multiple segments and then downloads them all simultaneously. This function allows the software program to use any connection at the maximum speed available.
Moreover, it also downloads one file from multiple sources, which means that it switches between servers and picks the fastest one available. In case of a slow connection, the manager doesn't close the download but uses the Snail Mode to get the file.
The Free Download Manager also comes with a traffic adjuster that allows you to access the internet without compromising on the speed. With numerous traffic adjustment modes, you can continue browsing at a normal speed while your file gets downloaded in the background.
Recovers broken file downloads
In case an ongoing download gets interrupted, FDM resumes the broken file from where it left off. Owing to this functionality, you don't have to spend hours trying to download a file all over again. It also offers a preview function so you can view any file before the downloading process is complete.
Comes with an organizer and scheduler
The Free Download Manager comes with an organizer that segregates files by their types and places them in predefined folders. Owing to this feature, it is easy to keep track of all your downloads and easily find them when needed. The straightforward file manager ensures you never lose a file.
Along with an organizer, the tool offers users a smart scheduler. As the name suggests, the scheduler allows users to start downloads, launch applications, and establish connections at a set time predetermined by the user. The tool also comes with a portable version, allowing users to control the dashboard remotely.
Loaded with features
Apart from all the features mentioned above, the file manager tool supports batch downloading so that users can download multiple files in one go. Moreover, instead of downloading an entire ZIP file, it allows users to complete a partial download of only the required files.
FDM also comes with an HTML Spider, through which users can download web pages in their entirety. You can use this feature to download complete websites off the internet. With the Site Explorer option, you can view the structure of a website and only download folders and files that you require.
Has a dedicated customer forum
The open-source software has a forum where users answer each other's questions. The community is an excellent resource for getting to understand the various features of the program. It's also a great place to share ideas about updates and report any bugs that you come across.
Is completely safe to download and use
The file manager for Windows is tested for viruses regularly. However, since the program is open-source, anyone can modify it to fit their particular requirements. In case you're concerned about your privacy, you shouldn't connect it to your browser as it allows the program to access and view information.
What are the system requirements?
You can download File Download Manager on computers running Windows 7 and above. The latest version of the tool is available for download for both 32-bit and 64-bit computers.
Are there any alternatives?
There are numerous other alternatives to the Free Download Manager, but all of them have varied features. In case you want to check out other applications that allow you to download and manage files, you can explore uTorrent, Internet Download Manager, and EagleGet.
Should I download the Free Download Manager?
If you're looking for a simple yet feature-rich downloader, you should download FDM. With the help of the clean and intuitive interface, you can keep track of all your downloads and find them whenever required. The software offers high-speed downloads, recovers broken links, and downloads from multiple sources.
The Free Download Manager also comes with a scheduler, which allows users to set downloading time and manage other functions. You can use the tool to control your downloads remotely or to adjust traffic according to your requirements. Owing to its versatility and easy-to-use interface, FDM has become a popular choice among users.