MediaTek Dimensity 8100 beats Snapdragon 8 Gen 1 in Geekbench despite not being a flagship chipset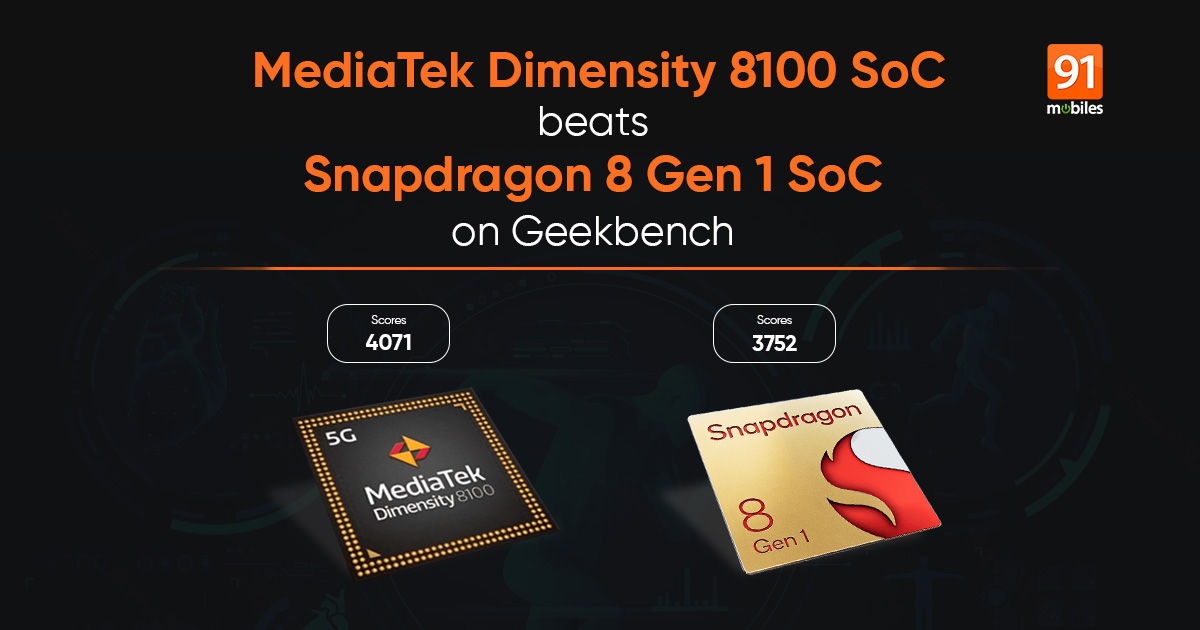 Highlights
MediaTek Dimensity 8100 chipset's Geekbench score has appeared online
The benchmark score shows the Dimensity 8100 beats the Snapdragon 8 Gen 1 in the multi-core test
The Dimensity 8100 won't be MediaTek's flagship chipset though
MediaTek's flagship Dimensity 9000 chipset has already beaten Snapdragon 8 Gen 1 in Geekbench tests
MediaTek democratised the 5G market in the last couple of years with its Dimensity line of chipsets, and it wouldn't be unfair to say that MediaTek Dimensity chipsets left the rival Qualcomm Snapdragon chipsets in the dust when it came to 5G. Still, the Snapdragon chipsets retained their authority by providing better overall performance. However, it seems that Qualcomm's grip on chipset performance may have started to loosen now. Just a month ago, we saw the early Geekbench score of the flagship MediaTek Dimensity 9000 chipset and that it beat the flagship Snapdragon 8 Gen 1 chipset by a considerable margin. As if that wasn't enough, now tipster Digital Chat Station has shared the Geekbench result of MediaTek Dimensity 8100 chipset, which is also beating the Snapdragon 8 Gen 1 in multi-core score.
Show Full Article
Geekbench 5 results for some processors pic.twitter.com/y7K6mS1Wya

— Ice universe (@UniverseIce) January 24, 2022
As you can see from the screenshot in the tweet, the device codenamed Realme RMX3562, which is supposed to be the rumoured Realme GT Neo 3, has scored 965 on the single-core benchmark and 4071 on the multi-core benchmark. In comparison, the Snapdragon 8 Gen 1 received a single-core score of 1231 and a multi-core score of 3752. While Qualcomm's Snapdragon 8 Gen 1 scored higher on the single-core benchmark, the MediaTek Dimensity 8100 beats it by a considerable margin in the multi-core test.
Considering that MediaTek Dimensity 8100 is meant for upper-midrange smartphones and is not the company's flagship offering, this multi-core result is quite surprising. What's even more surprising is that the MediaTek Dimensity 8000 chipset line is based on the older 5nm process and not on the cutting-edge 4nm process used by both Snapdragon 8 Gen 1 and MediaTek Dimensity 9000 chipsets. And these results don't even factor in the thermal throttling reports surrounding the Snapdragon 8 Gen 1 chipset.
If Apple's A15 Bionic chipsets performance superiority was not enough to make the case, these results further bolster the fact that the TSMC made chipsets are far superior to Samsung-made chipsets. For the unaware, Apple and MediaTek use TSMC as their chipset manufacturing partner, while Qualcomm uses Samsung for the same. Samsung-made chipsets were always prone to more heating and throttling than TSMC's chipsets.
You may remember that, back in the day, Apple used both Samsung and TSMC for producing its A9 chipset. It was reported that iPhones with the Samsung-made chipsets were harsher on battery and scored a little lower on performance benchmarks. And seeing MediaTek Dimensity's rising superiority over the Qualcomm Snapdragon chipsets, it is clear that things have not changed much.
The good news for users is that finally, we are seeing some healthy completion in the smartphone chipset market, and it's going to be beneficial for everyone in the long run.