Chuwi releases their upgraded 2-in-1 tablet UBook X Pro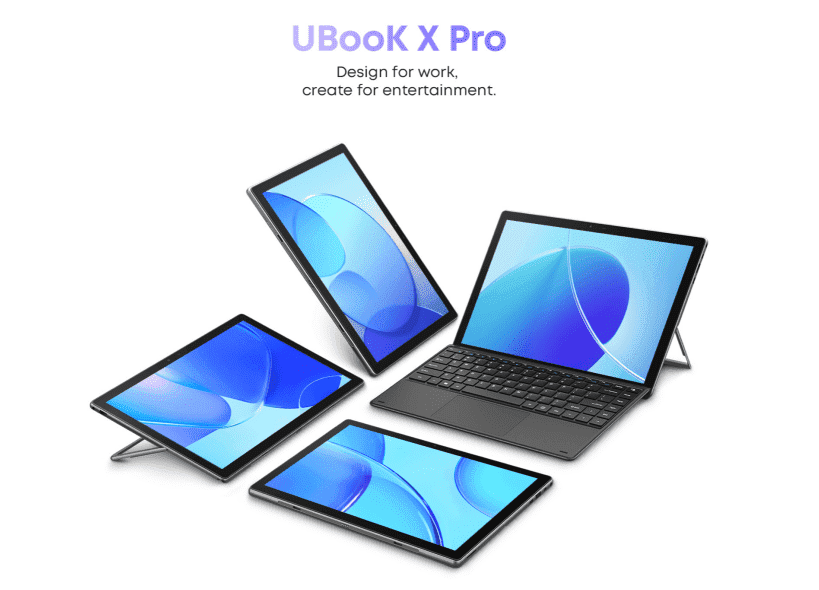 Recently, Chuwi launched their 2-in-1 tablet UBook X Pro, which not only retains the top performance, portability, battery life, and classic U-shaped stand of the popular UBook series but adds an upgraded 3:2 13-inch 2K IPS screen. And that's certainly not a small thing.
The move from the traditional 16:9 screen ratio found on most tablets to a 3:2 aspect ratio is quite significant. Pioneered by the Microsoft Surface tablet line, the 3:2 ratio is closer in size to the standard A4 paper ratio, giving the tablet a more book-like look and feel. And making it perfect for reading e-books, writing, taking notes, and most other text applications. With its upgraded 3:2 screen, UBook X Pro is both practical and comfortable.
2K Resolution | 3:2 Aspect Ratio | 4096 Levels of Pressure Sensitivity
UBook X Pro features a responsive 13" IPS touchscreen with a high 2K (2160 x 1440) resolution for sharp text and accurate image details. The screen's 3:2 aspect ratio widens the vertical space for a content display area, that better handles documents needing frequent page-turning or mouse-wheel scrolling. 
With up to 4096 levels of pressure sensitivity, the UBook X Pro also supports both touch and stylus pens for a smoother and more precise experience taking notes or drawing.
Style and durability for everyday life
Constructed from lightweight yet rugged aluminum-magnesium alloy that's only 9.2mm thick, the UBook X Pro is perfectly adaptable to any environment and scenario. Whether it's traveling, the office, or at home.
The highlight of the design is its infinitely adjustable U-shaped stand, which can be fine tuned from standing up to laying flat. You can adjust it  for the most comfortable working and viewing angles for browsing, watching videos or playing games. And with a writing stylus for notes and drawings and magnetic keyboard for efficient content input, all the advantages of a 2-in-1 tablet and notebook are on display.
Read Also: Asus 8z To Go On Sale In India Today, See Price, Availability & Specs
Quick and agile 
To handle daily office, entertainment and gaming needs, the UBook Pro X comes loaded with the ultra-low voltage Intel i7-7Y75 chipset. Including a dual-core quad-threaded 3.6GHz processor providing longer battery life with less power consumption, than previous models. Furthemore 8GB dual-channel memory and 256GB SSD storage speeds enhance the experience with swift multitasking and superior software response with improved usage efficiency and Windows 11 upgrade support. 
The UBook X Pro is a leader among 2-in-1 tablets with features like 2K resolution, 3:2 screen ratio, i7 processor and high-speed SSD for practicality without sacrificing performance. Whether it's an office on-the-go, entertaining at home, classroom learning, or playing games, UBook ProX now sets the standard for others to follow. For more information about it you can always visit the Chuwi official website.