Download Free Download Manager 64-bit 6.14.0 for Windows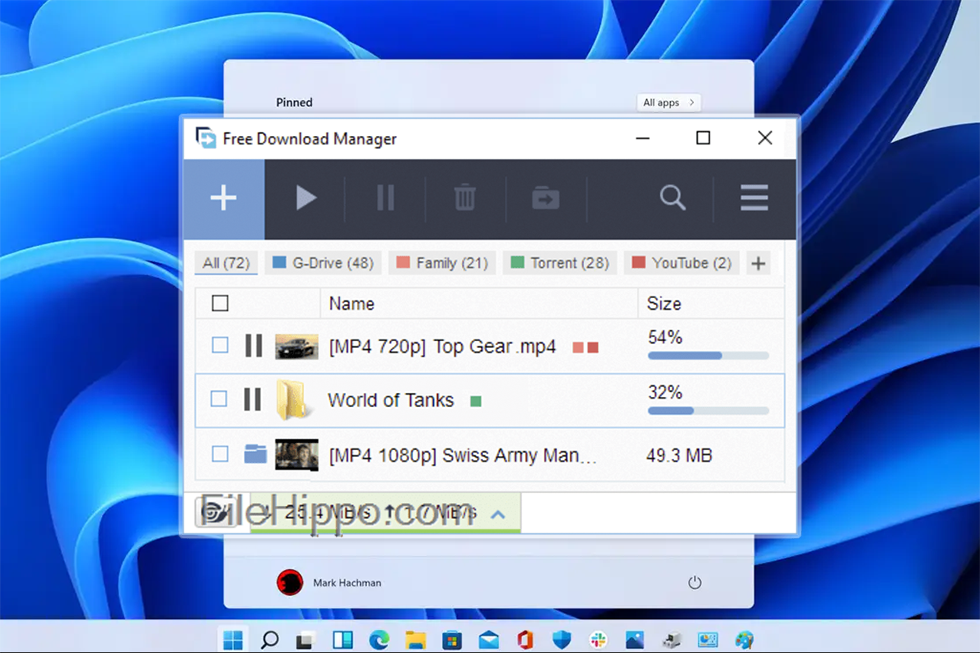 Free download management software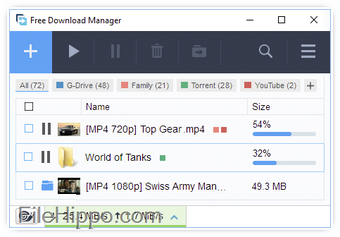 Free Download Manager is a free downloader that lets you import multimedia files onto your Microsoft Windows PC computer or laptop easily. The application allows you to organise your downloads through a simple and clean user interface. FDM integrates into your website browser to automatically detect downloaded content. The utility gives you plenty of features to have the best loading experience.
Is Free Download Manager free?
Free Download Manager is a free cross-platform application that is available for Apple Mac and Microsoft Windows PC devices. You can download and install the freeware on Windows 10, Windows 8.1, Windows 8, Windows 7, and Windows XP 32-bit and 64-bit operating systems. The portable version will let you easily use FDM on multiple devices with a USB drive.
The service is also compatible with Google Chrome, Internet Explorer, Microsoft Edge, and Mozilla Firefox web browsers. The tool can be integrated into multiple browsers at once on the same PC desktop if you use different ones.
Is it safe to use Free Download Manager?
You can download and safely use Free Download Manager. FDM is an open-source project that is available to modify within the terms of the GPL license. If you are familiar with the C++ programming language, then you can edit the app to fit your user preferences, as well.
How can I download with Free Download Manager?
Free Download Manager lets you download files in multiple ways. The tool can handle large files. FDM offers BitTorrent support to let you download Torrent files. You can drag and drop magnet links and URLs into the main user interface to begin the process. You can click on the addition icon in the upper left corner to paste your copied link into the popup window.
If you download a file directly from the internet, then the Free Download Manager browser extension will automatically capture the download. A window will appear to let you name and save the file to a specific location. You can modify the file settings and press 'Download' to start the transfer. FDM lets you schedule downloads to begin and pause at certain times.
You can mark the 'Scheduler' box to determine a set time to download the media files. The tabbed user interface will display the current downloads. You can view the file name, status, speed, size, etc. If you are downloading multiple files at once, then you can prioritise the items by hovering above the speed metric or tapping on the net speed meter in the bottom right corner.
You can control file priorities by selecting either the high, medium, or low profiles. If you want to adjust traffic usage, then you can go to the 'Traffic Limits' area within the 'Settings' section in the top right corner of the home screen to edit the download and upload speed.
If transfers are interrupted, then Free Download Manager lets you resume the broken downloads. FDM can convert files into a variety of popular formats. The platform is available in 30 languages, including Arabic, Chinese, English, German, French, Persian, Spanish, and others.
Which is the best free download manager?
Download Accelerator Plus, EagleGet, GetGo Download Manager, Internet Download Manager, JDownloader, and Ninja Download Manager are alternatives to FDM that can download videos, music, games, etc. All of the applications have a free version to use except for Internet Download Manager: IDM. The apps process media by optimising the transfer speed and organising your downloaded items.
4K Video Downloader is specifically for videos. You can download links from YouTube, Vimeo, etc. All of the software tools are available to download and install on Windows PC operating systems. Download Accelerator, IDM, and JDownloader can be used on Android handheld devices.
If you prefer a modern download service, then EagleGet and Ninja Download Manager have the most appealing user interfaces to use. Download scheduling is offered by all the programs aside from 4K.
Cohesive download system
Free Download Manager lets you configure with your download preferences in a simple user interface. You can optimise your downloads according to your preferences. If you have multiple imports, then you can organise the items to be finished in a specific order. FDM will increase your download speeds to save energy and time. If your download was paused, then the freeware will start the process from the same point.
The developers release new updates to the free program regularly. You can check for software updates by selecting 'Check for updates' within the 'Main Menu' in the upper right corner. If you go to the 'Settings' area, then you can customise your update preferences.