AllCall W2: IP68 waterproof 3G smartwatch phone official review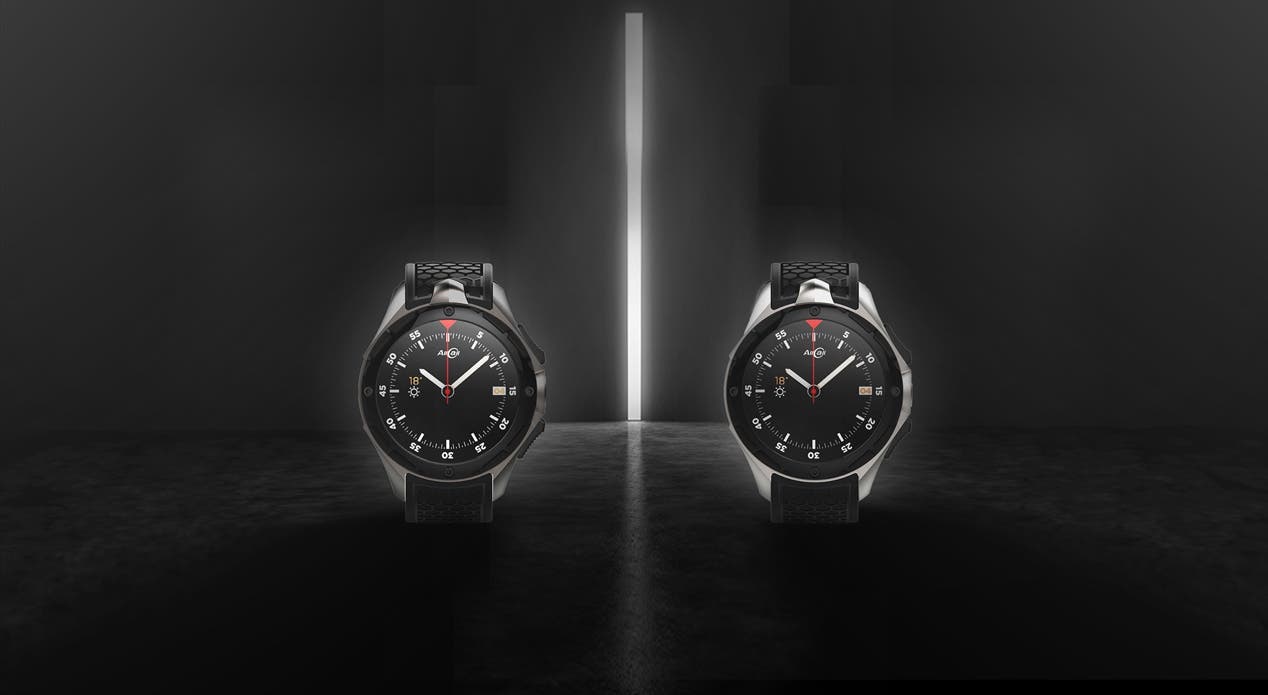 Announced earlier in June, the AllCall W2 is the second smartwatch phone from the Chinese company usually focused in smartphone production. The W2 has been received quite positively and that's not just because of the successful W1 predecessor, but due to the many features it packs. Let's learn more about it in the official review.
Appearance
The AllCall W2 looks a little conservative and simple in black and silver, meanwhile with the materials were specially chosen. The bezel is made of stainless steel, after dozens of complicated processes like CNC machining, polishing, anodizing and so on, making it dazzling in appearance and tough in quality. The all metal body then further enhances its shiny look and toughness. As for strap, W2 strap was shaped by soft rubber through injecting and hot pressing, bringing a matte look and comfortable touch, with a honeycomb-like surface and inner side breathable design which provides sweat proof, comfort, duration and exquisiteness.
IP68 waterproof
Passing IP68 waterproof- the highest protection level for mainstream electronics, standard IEC60529. The AllCall W2 can be dipped into 5 meter-deep-water and function as usual, not to mention rain flashing, hand washing, showering or swimming. That's really convenient for both our daily life and outdoor activities.
Features for sports
A large amount of features on the AllCall W2 are designed for sports. For instance, the watch is equipped with a built-in heart rate monitoring chip, which allows the AllCall W2 to monitor your heart rate, thus providing direct and scientific data for you to adjust your exercise to a healthier way. Besides, AllCall provides 9 different sports modes as well like riding, running, swimming, etc. You can choose one and set a target exercising time, calorie consumption and start exercising. The watch will help you record your exercise status in real time. Nonetheless, the AllCall W2 also possesses many basic sports features like GPS and pedometer, generally satisfying all the exercising demands you can seek from a wristwatch.
Read Also: HiFuture FutureFit Pulse smartwatch discounted to just $34.99
Features on business
The AllCall W2 does not only have a decent appearance which makes it suitable for any formal occasions, but also owns lots of practical features for business, Such as calling and massage synchronizing. Since the W2 supports Nano sim card, WCDMA and GSM connection, you can use it as your second smartphone, receiving or making a phone call, texting messages, surfing in the internet, reminding you when there are messages, etc.
Other basic features
There are also many other basic but practical specs on the AllCall W2. The watch is equipped with a quad core processor and 2GB RAM, which grant a smooth user experience. A 2.0 MP HD camera on the side ensures a more convenient way to take photos with a smartwatch. To cater different tastes. AllCall W2 was built in 9 sets of officially developed dials, or you can download more online in the adding-dial interface.
As for the screen, the AllCall W2 uses Samsung AMOLED high-brightness screen which can be seen clearly even under the sun, as AMOLED is a kind of self-luminous organic materials. Compared with traditional LCD panels, it's characterized with thinner screen, higher contrast, wider viewing angle, and faster response, which is widely used in flagship devices. A round AMOLED display used in AllCall W2 brings more vivid, colorful vision even under the sun.
The AllCall W2 is currently on presale over on Gearbest; click here to learn more.