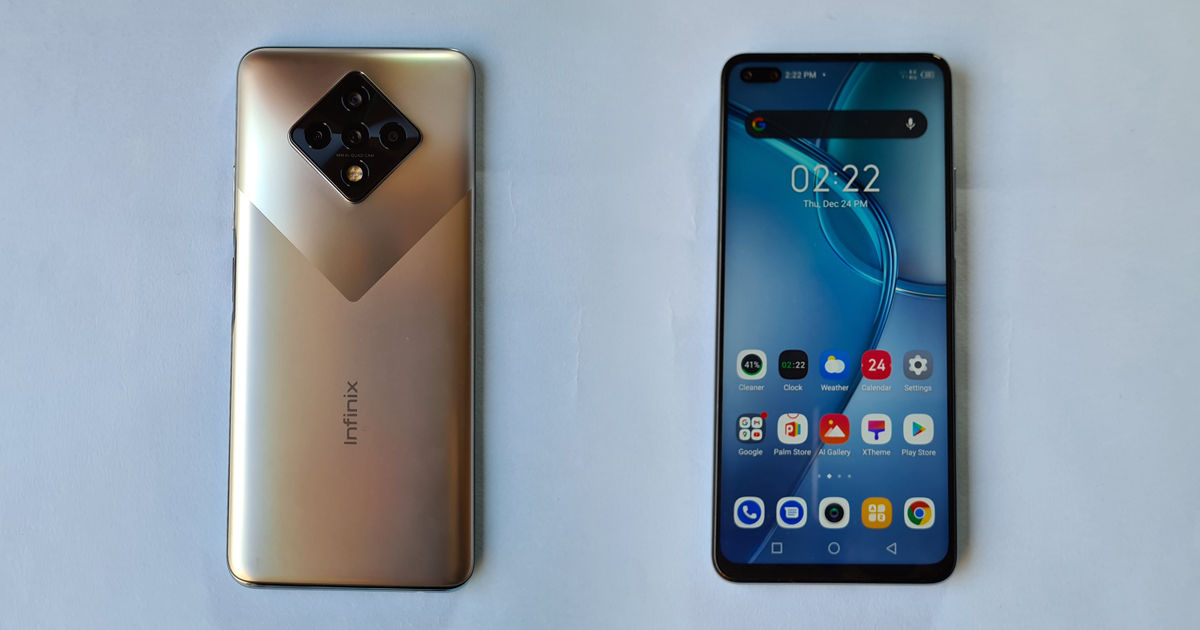 Most of Infinix's smartphone offerings have so far been in the budget and entry-level segment. The mid-range market has contenders from the likes of Realme, Xiaomi, OPPO, Motorola, Samsung, and Vivo, all of whom have significant clout in the Indian market. For Infinix, wooing customers from these brands would require a special kind of smartphone and that's where the Zero 8i comes in. With a unique design, a respectable amount of processing prowess, a high refresh rate panel, and more, the Zero 8i looks like it has what it takes. Currently priced at Rs 15,999, let's find out more about this handset and see how it fares.
Table of Contents
Verdict
The Infinix Zero 8i is a phone that delivers on mostly everything that can be asked for in a Rs 15,999 phone. However, a sub-par software experience and excessive bloatware weigh the phone down.
The lowdown
Infinix has chosen a design that definitely sets the phone apart, at least from the back. The Silver Diamond colour scheme really does catch the eye with a portion of the back sporting a matte finish. On the top is a rhombus-shaped camera housing, containing four lenses and a flash. The camera module slightly protrudes out of the back, giving the device a slight wobble when placed on a flat surface. The phone is also a bit thick, but the edges curve smoothly for a decent in-hand feel. The side power button has an integrated fingerprint scanner and the volume rocker is placed right above it. There is a Type-C port at the bottom, along with a 3.5mm headphone jack and a speaker grille. The phone's polycarbonate construction is rigid, sturdy, and does not feel too heavy.
On the front of the phone is a massive 6.85-inch LCD panel with FHD+ (1,080×2,460) resolution. There is a dual punch-hole at the top for housing the selfie shooters. Infinix has included a 90Hz panel with a touch sampling rate of 180Hz. The company touts a 91 percent screen-to-body ratio, but it is more around the 86 percent mark. These are still pretty impressive stats for a Rs 15,999 phone. The viewing experience itself is quite nice with vibrant colours on display and reasonably good viewing angles. There is also very little backlight bleeding around the punch hole. The refresh rate is variable between 60 and 90Hz and the only other display adjustments are a toggle for eye-care mode and adaptive brightness. The latter did take its own sweet time to adjust but I never had any problems with legibility even under harsh sunlight.
The cameras on the phone include a 48MP primary sensor, an 8MP ultra-wide lens with macro capabilities, a 2MP depth sensor, and an AI camera. Daylight photos don't stress out the cameras with shots having a good dynamic range and a contrasty look that pump up the colours. AI scene detection cannot be turned off but you can toggle auto-HDR off and on. Detailing is good and focusing on the subject is snappy along with the shutter speeds. The depth camera also does a decent job of separating the background from the subject. As for the wide-angle lens, shots are fairly detailed in the centre but the focus is very soft around the edges. Colours are also quite dull as compared to the primary shooter.
The macro lens actually worked quite well in good sunlight with shots retaining accurate colours. Night shots are very noisy with a ton of oversharpening but the dedicated Night Mode helps clean up the photo and bring a lot of detail in focus. There are two selfie shooters with the main sensor clicking 16MP shots and a secondary ultra-wide sensor taking 8MP shots. Dynamic range and exposure handling are not up to the mark but indoor selfies are detailed. The ultra-wide sensor gives a significantly wider field of view but the focus on your face is soft.
Powering the Infinix Zero 8i is the MediaTek Helio G90T chipset and truth be told, it has become slightly outdated. I tried out the SoC first on the Redmi Note 8 Pro (review) back in early 2019. That is not to say that the G90T is a poor performer by any standard. The normal day-to-day tasks happen swiftly. There are no issues with multi-tasking, opening heavy apps like Instagram or Facebook, keeping multiple apps open in the background or browsing through endless Chrome tabs. There was no noticeable lag in any task apart from opening the camera app, which for some reason just shuts down when I exit it. I have the 8GB RAM + 128GB version which is going to be more than sufficient for all kinds of storage needs. There is also a liquid cooling system inside the device which is said to help when the phone gets heated during graphical tasks. Speaking of which, heavy-duty gaming like playing Call of Duty: Mobile is possible on the phone provided frame rate and graphics are set on medium. Normal games like Subway Surfer or Temple Run will run perfectly fine. Other features on the phone include an integrated fingerprint scanner which opens up the phone in an instant and face unlock that works well in well-lit conditions. The speakers were loud enough if you plan to watch or listen to something alone in your room. Microphone and earpiece quality was up to the mark. I tested the device with Jio's Noida network and there were no concerns of bad reception or call drops to note. As for software, the phone runs Infinix's XOS skin which is based on Android 10. You can head over to my Infinix Note 7 review for more details. Basically, you can expect lot of bloatware, unnecessarily flashy icons, jerky animations and there's no real timeline for regular software updates either.
Battery-wise the phone packs in a 4,500mAh cell with a fast 33W charging solution. A full day of use can be expected from the device on normal to moderate usage. I got about 5 hours of screen-on time which is just about good enough for this price. My battery test, which involves looping a video at half brightness and volume, showed that the device lasted about 23 hours, which is standard for a battery of its capacity. The fast charging tech means that the phone gets juiced up in about 1 hour and 20 minutes while 50 percent of the capacity gets filled up in 35 minutes.
Final verdict
The Infinix Zero 8i should be worth your consideration. It has a unique design which stands out in the segment, and offers a decent night mode shots, a big, expansive display with 90Hz refresh rate, a capable processor which can get your day-to-day tasks done quite easily, and fast charging along with decent battery backup. However, the overall lack of flair in the software department and poor selfie shooters are not going to do the phone any favours. The Realme 7 (review) and the Redmi Note 9 Pro Max are good options to consider if you are looking for a better software experience while the Samsung Galaxy M31 (review) with its 6,000mAh battery can also be considered if you are looking for longer battery life. The Infinix Zero 8i is a capable device but the brand needs a clean, reliable software interface to go along with it.
Editor's rating: 3.5 / 5
Pros:
Big, 90Hz display
Fast charging
Nice design
Cons:
Selfie cameras could be better
Bloatware is an issue