O2 Cure Plug and Play air purifier overview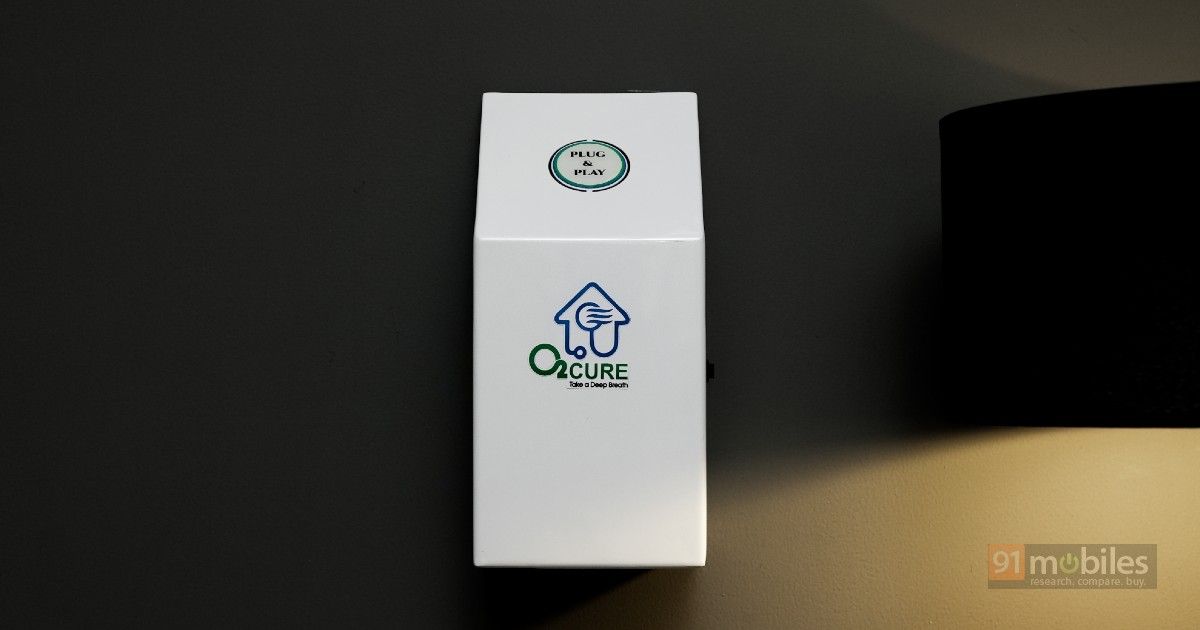 The quality of the air we breathe is a matter of great concern for many, and that's where air purifiers come in. In this article, let's take a close look at the O2 Cure Plug and Play air purifier. The device, from a US-based firm, is quite interesting, as it doesn't rely on filters. So without further ado, let's dive into the O2 Cure Plug and Play air purifier overview.
Design and installation
O2 Cure Plug and Play air purifier is the most compact air purifier I've ever seen, probably because it doesn't have room for filters (more on that later). The device is just 310mm tall, which is a couple of inches taller than a 1-litre water bottle, and 146mm and 110mm in length and width respectively. The air purifier doesn't weigh much either, tipping the scales at 2.5KGs. There is no handle, but if you have big hands like me, moving the air purifier from one place to another shouldn't be a problem.
As for the design, the O2 Cure Plug and Play has an off-white metallic finish atop the aluminium frame, which is rectangular around the waist and the bottom. The top has a slope that bears a circular 'Plug and Play' badge on it. The base of the air purifier houses grilles that suck the air in, and release purified air from the vents on either side of the device. There is an on/ off switch and a port for the power cord on the right edge. The cord's plug has US-style pins, but the good thing is that adapter compatible with Indian switches is bundled with O2 Cure Plug and Play air purifier.
Around the back, the O2 Cure Plug and Play air purifier has a port to wall-mount it. Yes, you can wall-mount this air purifier. Otherwise, the device needs to be kept on a surface such that its vents and grilles are not blocked to work efficiently. The rear panel also highlights a removable tray with a washable mesh at the bottom.
Performance and features
O2 Cure Plug and Play is a UV (ultraviolet) light-based air purifier. The device houses the Photo Hydro Ionisation aka PHI cell to purify the air instead of HEPA, Carbon, and other filters that you may find on most air purifiers out there. The PHI cell fights against impurities using UV light that creates Hydro-Peroxides, Superoxide Ions, and Hydroxides targeted on a hydrated quad-metallic target to develop an Advanced Oxidation Plasma. The air purifier has been proven to drastically reduce virus, mould, bacteria, dander, odour, smoke, and VOC's.
Additionally, the company claims that "This technology (PHI cell) has been successfully tested and approved by internationally accredited virology lab in the USA over SARS-COV-2 (COVID-19) virus with 99.63 percent reduction within one hour from air and surface." The O2 Cure Plug and Play air purifier is also said to be tested and proven to be beneficial of those suffering from health solutions like asthma, tuberculosis, bird flu, swine flu, pneumonia, COPD, sleep amnesia, and bronchitis.
That said, it would be wrong to say that the O2 Cure Plug and Play air purifier doesn't have any filter whatsoever. The device packs an electrostatic filter that catches dust, pollen, and other particles. The filter is reusable and washable.
The O2 Cure Plug and Play air purifier is rated to have a coverage area of up to 500 sq ft and a CADR, (which is Clean Area Delivery Rate that specifies the amount of clean air an air purifier can throw out), of 350 cubic meters per hour. The PHI cell has a lifespan of 30,000 hours that can roughly last for more than three years with continuous (24×7) usage. The refill costs about 40 percent of the air purifier's price in India.
O2 Cure Plug and Play air purifier: should you buy it?
The O2 Cure Plug and Play isn't like any other air purifier, and buying it would depend on the kind of air pollution you are dealing with. If you're in an area where the quantity of particulate matter aka PM is on the higher side, you're better off with the likes of the Sqair (overview), Mi Air purifier 3 (overview), and Dyson Pure Hot+Cool (review), among others.
The O2 Cure Plug and Play lacks a HEPA filter that makes it ineffective against PM10 and PM2.5. What the air purifier can do is get rid of microbial and toxic gases from the air via its UV light-based PHI cell. We can't vouch for its efficacy, but UV light has historically been proven to disinfect the air. The O2 Cure Plug and Play air purifier is currently selling in India at Rs 41,999.