Amazfit Verge 2 is official- supports e-SIM, ECG features, and keyless car entry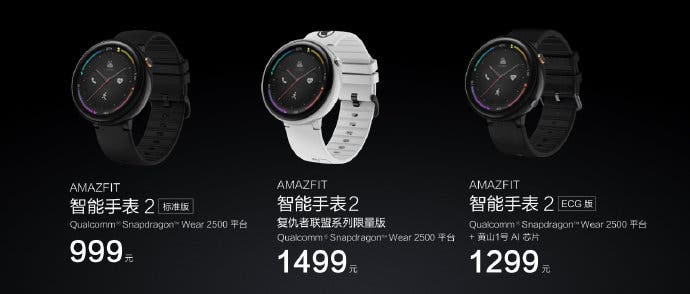 It is another game-changing day for Xaiomi as the Chinese tech giant unwrapped the much anticipated Mi band 4 today at an event in Beijing. As expected, the successor to the Mi Band 3 offers better hardware and improved features, all of which we have highlighted here. Aside from the Mi Band 4, Xiaomi sub-brand Huami also got busy earlier today in China as it announced the Amazfit Verge 2聽– a smartwatch that could spell trouble for the likes of Fitbit and Apple watch.
The smartwatch offers some mild change in design, with significant improvements on the inside including a new chipset, and much like the Mi Band 4 from Xiaomi, the Amazfit Verge 2聽聽has a 1.39-inch AMOLED touch screen with a 2.5D glass which offers some bit of protection, and a microcrystalline Zirconium Ceramic Frame
At the heart of the Amazfit Verge 2 is Qualcomm Snapdragon Wear 2500 series processor with a frequency of 1.1GHz, and coupled with that is a 512MB of RAM while there is 4GB of eMMC storage onboard. Interestingly, the watch comes with an in-built eSIM for 4G VoLTE calling not tied to any one operator but supports all major operators in China.
A major highlight of the Verge2 is its ability to automatically track 10 sports activities including using its in-built GPS module (running, walking, indoor running, indoor riding, elliptical, mountaineering, outdoor riding, football, skipping, trail running).聽 Also worthy of note is that the smartwatch comes embedded with a narrowband network technology (NB-IoT) which allows you to report emergency health events in real time without having to connect it with a smartphone over Bluetooth. The Verge2 also offers keyless entry and keyless start functions on cars manufactured by Xiaopeng Automobile.
Huami is also offering a special Avengers Limited Edition Amazfit Verge 2 with custom theme and band, though only a limited number will be pushed to the market, as well as an ECG edition of the Verge 2 that can store up to 60 minutes of ECG data locally for up to 7 days. This version comes with Huami鈥檚聽Huangshan No. 1 AI processor for accurate heart rate monitoring all round the clock as well as for real-time screening of PPG & ECG arrhythmia with atrial fibrillation.
Powered by a 420mAh battery with up to 28 hours of battery life on 4G, the Amazfit Verge 2 comes with Alipay offline payment support, NFC, Bluetooth 4.2+BLE, WiFi, and water and dust resistant.
The Avengers Limited Edition and ECG version with a Silicone+ leather hybrid strap won't be available for sale until sometime in July, but you can already reserve the standard edition with silicone straps. The Avengers Limited Edition and ECG versions are priced at 1499 yuan /US$ 216,聽 and 1299 yuan/US$ 187 in that order, while the standard edition goes for 999 yuan /US$ 144.
Amazfit SmartWatch 2 specifications
1.39-inch (454 X 454) AMOLED 326PPI screen with聽Corning Gorilla Glass 3 protection
1.1GHz聽Quad-core聽Qualcomm Snapdragon Wear 2500
512MB LPDDR3 RAM,聽4GB eMMC
AMAZFIT OS with support for聽Android 4.4 or iOS10.0 and above
Sports, Activity and Sleep tracking
Low-power BioTracker PPG sensor, ECG monitor (ECG Edition only), Accelerometer, Geomagnetic sensor, Ambient light sensor
Water and Dust resistant (IP68)
4G VoLTE (via eSIM), WiFi聽 802.11 b/g/n, Bluetooth 4.2 LE,聽GPS+GLONASS+BDS, NFC
Speaker, microphone
420mAh lithium ion polymer battery with up to 28 hours of battery life on 4G