Baseus 65W GaN III Charger / Powerstrip review: a complete and versatile charging / power solution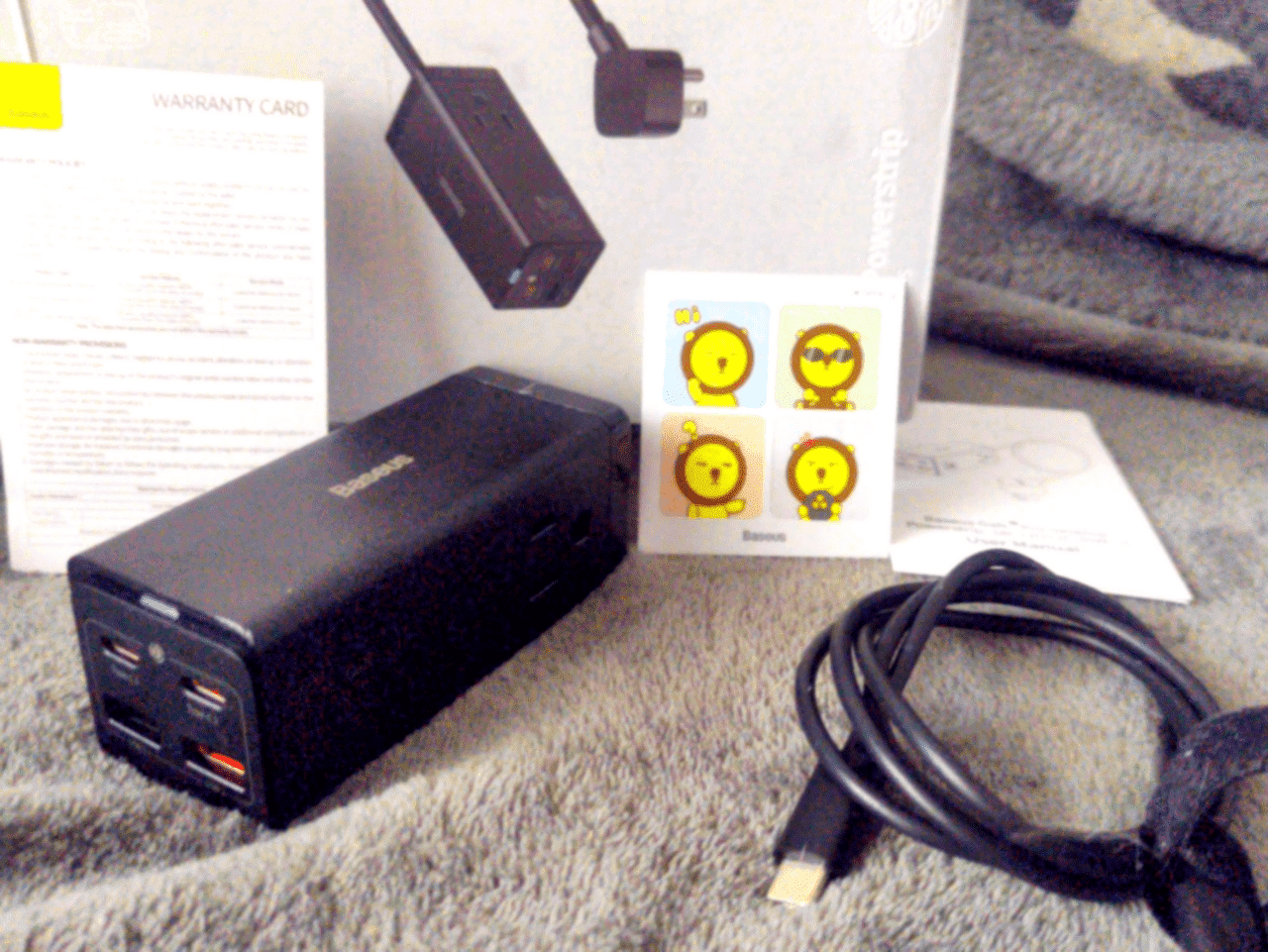 The trend of fast-charging for smartphones and other smart devices, also brought some new good accessories to the market offering versatility and compatibility with many of these fast-chargeable devices. If you are looking for a product that can do more than simply charge your smartphone, tablet, we have an interesting solution from Baseus. The Baseus 65W GaN III Charger / Powerstrip, as the name suggests is a big combo-product with power and charging ports that can charge and also keep your smart devices tuned on.
Baseus Gan Pro III 65W charger / powerstrip
For those unaware, Baseus is a maker of accessories for audio, smartphones, and homes. Now, the company is expanding its efforts into the power accessory landscape. The company has already unveiled multiple power strips and chargers, now we have a Power Combo. The new PowerCombo GaN 65W charger offers a four-port, high-power charger, and as the name implies it's built on the latest Gallium Nitride (GaN) technology. The result is a 65W charger and power strip that offers the advertised capabilities and also keeps a small profile and you won't need to be concerned with heating.
Baseus 65W GaN III Charger / Powerstrip Description:
The Baseus 65W GaN III Charger / Powerstrip acts as a two-port 110V power strip and also is a 4-port (2x USB-C + 2x USB-A), 65W, high-speed charger.
Box Content:
The Baseus 65W GaN III Charger / Powerstrip comes in a simple box, but is loaded with the following content:
1x Baseus PowerCombo GaN 65W charger/power strip – features a 1,50m cord and 45-degree low profile power plus
1 x Baseus 100W (20V / 5A) USB-C to USB-C cable with E-Marker chip
Warranty Card
User Manual
Cool Stickers
Warning Tags
Baseus 65W GaN III Charger / Powerstrip technical specifications
Dimensions: 3.82 x 1.61 x 1.5 inches
Power cord: 4.92 ft
Rated Voltage:125V~,60Hz
Rated Power:1250W Max
Current:10A Max
USB Input: AC 100-125V~, 50/60Hz, 1.5A Max
Type-C1/Type-C2 output: 65W Max, 5V/9V/12V/15V⎓ 3A; 20V⎓ 3.25A
USB1 Output: 5W Max, 5V⎓ 1A
USB2 Output: 60W Max, 5V/9V/12V/20V⎓ 3A
The front part of the Powerstrip delivers the 4-port solution and looks like a conventional smartphone charger. There are two USB Type-C ports at the top and two USB-A ports at the bottom. This way, you can use both cable standards to charge your smartphone or smart device. Take note that the USB Type-C to Type-C is the fastest ports and Baseus has been kind enough to add a USB-C to USB-C cable that allows you to charge your compatible smartphone very fast. There is a power LED indicator at the top.
In case you need it, you can also find all the technical specs of the device on one of its sides.
Both sides also feature a three-prong 110V port allowing you to not also plug some conventional devices like a fan, or even a laptop. This is the big add-on that makes the device act like a charger and a power strip simultaneously. However, depending on your region, you'll need to get an adapter since the Powerstrip is mostly based on the US standard. Here in Brazil, for example, I had to pick some adapters since the standards here are mostly based on the EU plug with the addition of a third plug. So, you'll need to make sure you have the necessary adapters in case you're out of the US.
Baseus provides a deep explanation of the Powerstrip. As a result, you'll be able to know exactly how the device will work depending on your use scenario. It's a 65W charger when you're charging via USB-C and that's the only USB connection you are using. Anything else will certainly step the output down and it is limited to a maximum output of 65W combined across the four charging ports. If you have a power-demanding computer that needs more than 65W, it's better to use the original charger and plug it into one of the 110V ports. Otherwise, you'll experience discharging even with the device connected.
When you're using the four ports, the first USB Type-C will provide 45W, the second one will provide 15W as well as one of the USB-A ports. The last USB-A port will have just 5W. So, you'll still be able to charge your smartphone fastly depending on the input that it supports. The Split-charging may sound like a limitation, but still, this does not make the product sound less useful. It's still a powerful charger that will charge multiple devices at very good rates. The 45W is still fast, 15W is also acceptable depending on the device. There are other scenarios and you can see in the picture above. I could easily charge my POCO X3 Pro with the Baseus charger since it supports 33W charging. Moreover, I've plugged my iPlay DualShock 4 charging dock in one of the USB-A ports and it's working perfectly fine.
Pros
Compact Size
Compatibility with multiple devices
Portable PowerSource with the 110W ports
Long Cable and USB Type-C to Type-C port provided for free
Cons
You'll need an adapter depending on the region
Conclusion
Baseus PowerStrip GaN Charger is a complete and compact product that can save your day when you're needing to charge multiple devices but also needs a power source for some of your electronics. If you're traveling, you can easily take this device with your to charge your smartphones and also to turn on some of your electronics.
Buy Baseus 65W GaN III USB C Wall Charger with 2 Outlets
It's a very good device, and the current $49,99 deal price makes it even more interesting.