HP Pavilion 13 laptop review: a lightweight portable that gets the job done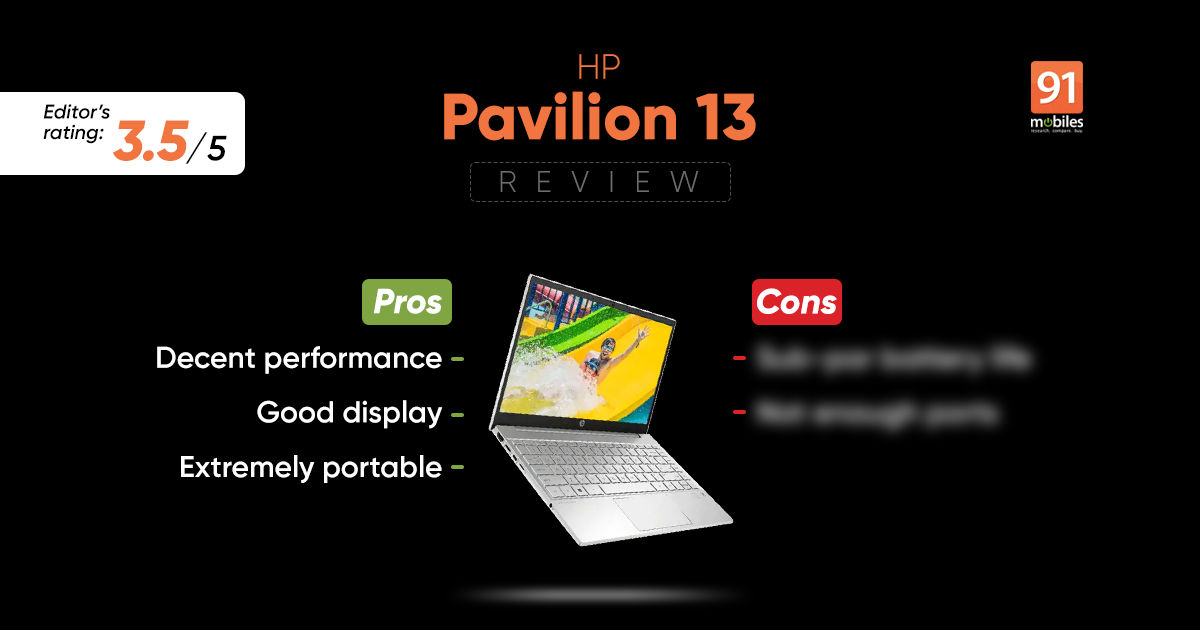 Intel's latest 11th-gen Tiger Lake CPUs are finally making an appearance in the Indian laptop market and one of the very first devices that utilises the new silicone is HP's new Pavilion series. I have with me the Pavilion 13 notebook that houses the Intel Core i5-1135G7 featuring a 10nm fabrication process. Over the past year, AMD's Ryzen CPUs have been turning up the heat and offering strong competition to Intel. It does seem that the 11th-gen Intel CPUs can cover significant ground, and it's time to find out if this Rs 72,990 laptop from HP is worth its salt.
Table of Contents
Build, design and display
The HP Pavilion 13 sports standard build as far as laptops go. That said, it's extremely light and portable to carry around in a bag or tucked under your armpit, although I wouldn't recommend the latter to everyone. The laptop is supposedly made from recycled and ocean-bound plastics, which likely contributes to the lightweight nature of the device. The chassis and the lid are made from aluminum though. I like the smooth silver finish on the device, though you also get a Ceramic White variant as well. The hinge's rigid construction doesn't allow me to open the lid with just my finger without the base lifting up as well. On the positive side, the Pavilion 13 does pack in a stellar speaker setup that is powered by Bang and Olufsen. In terms of ports, the Pavilion 13 provides a USB-C port, two USB-A ports with USB 3.1 standard, an HDMI 2.0 port, a 3.5mm headphone jack, and a microSD card slot. At the top is an HP True Vision 720p web camera that has an integrated dual array digital microphone. Wireless connectivity options include Wi-Fi 6 and Bluetooth 5.1.
On the display front, you get a 13.3-inch IPS LCD panel that has thin bezels surrounding it and offers FHD resolution. HP says it has provided a nearly 88 percent screen-to-body ratio. The viewing experience is quite pleasant overall, but with 250nits of peak brightness, the screen is not really ideal for using under harsh sunlight. Colour accuracy also doesn't seem to be a priority, with just 41 percent of the DCI-P3 colour gamut being covered. This means that the Pavilion 13 won't be ideal for heavy photo editing, though for the average user, browsing OTT content and YouTube shouldn't present any issues. Even so, the glossy panel is slightly off-putting for daily media consumption.
Keyboard and trackpad
You get a standard six-row keyboard with the Pavilion 13, which employs chicklet style keys with decent travel. The colour of the font matches with the chassis making visibility hard until the backlight is turned on, with the brightness of the latter being adjustable in three steps. The delete and power button keys are placed in a confusing fashion and sometimes I accidentally put the laptop to sleep without meaning to. Thankfully, despite the compact design, the keyboard doesn't feel cramped at all and I could accomplish my usual typing-related work without any issues.
The trackpad is elongated and slightly bigger than what the size of the laptop demands. The usual Windows multi-touch and gesture support are present along with Windows Precision Drivers, though I would still recommend investing in a good mouse for your daily needs.
Performance and Battery
The Intel 11th-gen Core i5-1135G7 processor is part of the new Tiger Lake lineup of CPUs by the chipmaker. AMD's recent spurt in processing prowess while keeping affordability in mind has made Intel sit up and take notice. For a price of Rs 72,990, the Pavilion 13 does a very good job of pushing through moderately performance-intensive tasks. I ran a couple of benchmarks on the device and the results were quite favourable, especially if your main motive is to get work done using software such as Microsoft Office or Google Chrome. On Geekbench 5, the device logged a single-core score of 1,376 and a multi-core score of 3,800. Under more sustained load through Cinebench's R23 benchmark, the single-core and multi-core scores were 1,228 and 3,786. PCMark 10, which runs the laptop through a simulation of several daily tasks returned a score of 4,540. From these results, I can say that the Pavilion 13 works quite well, though it might not work so well for strenuous tasks such as video editing and such.
The Intel Iris XE integrated graphics are capable of running popular games such as CS:GO and even Apex Legends at low settings. However, after a point, the base of the device gets quite hot resulting in substantial throttling. Long story short, keep your expectations in check if you plan on running graphically intensive games. The device also has 512GB of M.2 NVMe SSD and 16GB of DDR5 RAM for your memory requirements. CrystalDiskMark gave Read and Write speeds of 2,247MB/s and 1,065MB/s that are in the acceptable category. Windows Hello is enabled on the device which allows you to unlock the laptop using your fingerprint, although it rarely worked on the first attempt.
As for the battery life, the Pavilion 13 offers a 43Whr cell that is said to provide 8.5 hours usage. In my testing, the device falls short by a couple of hours while I was using the device at about 75 percent screen brightness. A full day of use is achievable but you would have to really keep your usage light. I feel that the battery life should have been better given the relatively low processing requirements.
Final verdict
The HP Pavilion 13 and its 11th-gen Intel CPUs handle your day-to-day workload easily provided you use its processing capabilities judiciously. The laptop is no gaming machine but it will run a dozen Chrome tabs, the entire Microsoft Office suite, and switch between them effortlessly. I think the laptop could do with a few more ports, but more importantly, the battery life should have been better. Even so, its portability is one of the laptop's strong points, and something that should help attract potential buyers.
Editor's rating: 3.5 / 5
Pros:
Decent performance
Good display
Extremely portable
Cons:
Sub-par battery life
More ports would be nice