Lenovo Legion 5i Pro review: a loaded gaming machine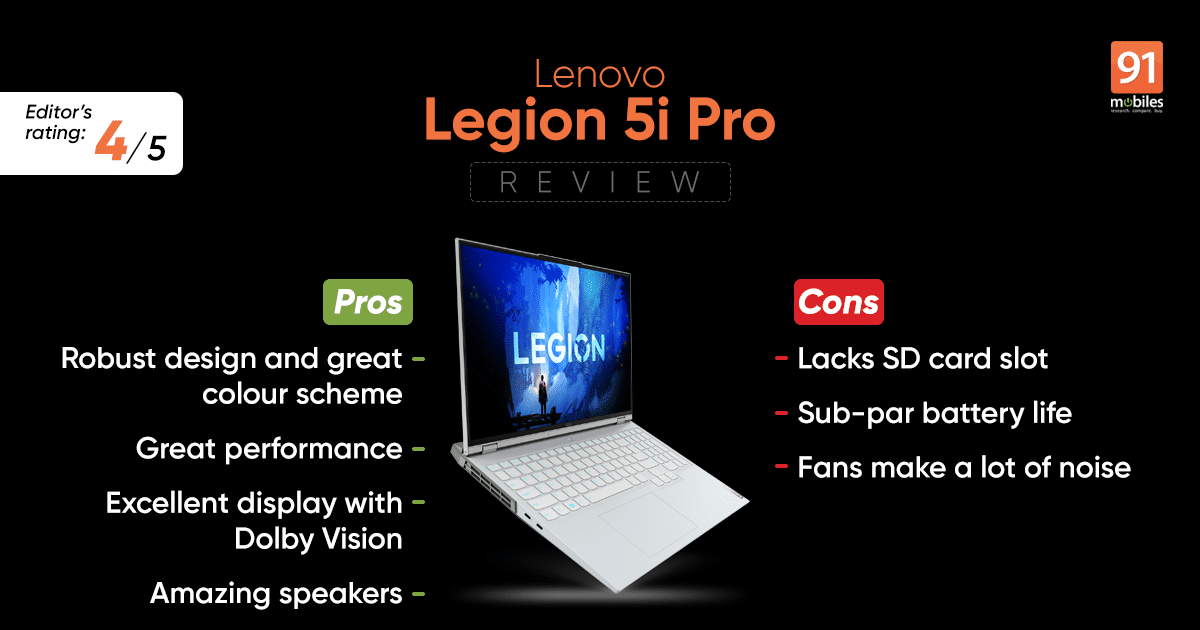 Lenovo is the world's largest PC maker in terms of total shipments and it stands to reason that it has invested a considerable amount of resources in the booming gaming laptop segment. In India, the sub-Rs 2,00,000 GPU-focused laptop market is on the rise, and players like ASUS, Acer, Dell, and MSI have all been showcasing a variety of products to woo customers. Lenovo's ace-in-the-hole is its renowned Legion lineup of gaming laptops, many of which I have reviewed over the years and came out more than satisfied. Today I have the Legion 5i Pro which is priced at Rs 1,57,120, putting it squarely in the sights of ASUS' ROG Strix and Flow lineups. The Legion 5i Pro harbours the 11th-gen Intel i7 11800H CPU while the NVIDIA GTX 3060 handles the graphics side of things. With the 12th-gen Alder Lake Intel CPUs around the corner, let's find out in this review if the Legion 5i Pro is worth the considerably big hole you'll be burning in your pocket.
Table of Contents
Build, design and display
As soon as I removed the laptop from its box, I was greeted by this fantabulous all-white chassis that separates the Legion 5i Pro from the sea of black and grey devices on the market. I also love the matte finish employed across the keyboard and the ginormous Legion logo illuminated in blue on the lid's back panel. The distinctive look is easy to spot from a distance and I'm all for it. As for the hinge design, Lenovo's extended back edge acts as the lid's base, and enables a smooth up and down motion and the ease of opening with just one finger. A power button is at the top centre of the keyboard. There's zero flex on the chassis while typing, indicating the laptop's robust build quality. A multitude of heating vents is present on the sides of the laptop and two massive ones on the back edge. The webcam on the top is housed in a slightly extended bezel which blends exquisitely with the rest of the lid. The laptop weighs in at 2.3kgs which makes it a pain to carry around in your bag, but that is to be expected considering the heavy-duty internals being packed along with the 16-inch screen size. You also have to take into consideration the 300W charging brick without which the laptop's functionality diminishes rapidly.
There are a ton of ports present on the device and most of them are on the back, making cable management easier. On the right, there is a USB-A 3.2 port and a physical toggle for webcam privacy while on the left you can find a 3.5mm headphone jack and a USB C port. The back of the device has an HDMI 2.1 slot, another USB C port with Thunderbolt 4, three more USB A 3.2 ports, an RJ-45 Ethernet slot, and a power delivery port. It is slightly disappointing to see that with such an expansive list of connectivity options, Lenovo was unable to put in an SD or microSD card slot. As for wireless connectivity options, the device has Wi-Fi 6 and Bluetooth 5.1.
The Legion 5i Pro's display is one of its strongest points, packing in 2,560×1,600 resolution and 16:10 wide aspect ratio. With minimalistic bezels surrounding the display along with the trimmed down chin, the viewing area is quite expansive. The 10-bit LCD panel supports HDR content and is generally quite colour accurate when compared to the competition. It also has a 165Hz refresh rate that makes browsing and general usage on the laptop fluid. The peak brightness of 500nits is not the highest in the segment but it's unlikely the device is going to make the rounds outdoor, away from its charger, on a sunny afternoon. Lenovo has also supplied a Dolby Vision certificate for the display and I did enjoy my time watching All Of Us Are Dead on Netflix where the gory zombie apocalypse unfolded in breathtaking detail.
Keyboard and trackpad
Lenovo has consistently provided a stellar typing experience on almost all its laptops and the Legion 5i Pro is no different. You get the traditional six-row layout and the large 16-inch display makes room for a full-size numpad without cramping up the main keys. Backlighting is present on the keyboard and its blue colour goes quite well with the white keys. The travel is fine and the typing sound is slightly muted which I like. What's more, the arrow keys are full-sized and sit below the shift key for better reachability. This is a keyboard that doesn't take a lot of getting used to and I feel that the Legion 5i Pro's implementation will be more than appreciated by casual gamers. There is also a sizeable trackpad located beneath the keyboard with slightly poor haptic feedback but decent latency. In any case, buyers of this laptop are going to make use of an external mouse for gaming.
Performance and battery
Moving now to the performance part of the device, the Intel i7 11800H octa-core CPU manages operations under the hood and it is, without a doubt, a very capable piece of silicone. I can tell you that the Legion 5i Pro performs quite well, retaining up to 80 percent of peak performance under load. Cinebench R23's single-core and multi-core results of 1,475 and 11,014 are a testament to that and match scores I have seen previously on 11800H laptops. I used the Legion 5i extensively for browsing through an endless stream of Chrome tabs, Netflix, working on this review on WordPress, and listening to the Joe Rogan Experience (don't judge me) on Spotify. All of these tasks are executed flawlessly and without a hitch. PCMark10, a benchmark that measures these daily use case applications quantitatively, returned a healthy score of 6,362. There is also 16GB of dual-channel DDR4 RAM and a 1TB SATA M.2 SSD that is slightly less conducive to gaming than an NVMe. Even so, CrysalDiskMark's storage testing benchmark scored an excellent 6,161MB/s and 4,703MB/s in read and write speeds respectively for the SSD. It is also imperative to know that the device comes with Windows 11 out of the box. If you are looking for a cheaper alternative in Lenovo's stable then I would suggest the Legion 5 Pro that packs in basically the same specs but has a Ryzen 7 5800H CPU instead of its Intel counterpart and costs approximately Rs 10,000 less.
NVIDIA has supplied the RTX 3060 GPU with 6GB VRAM for gaming needs and it works as advertised. Casual gamers will not be looking for the best frame rates and the highest graphics quality on offer as the GPU is more in the mid-range category. I ran Shadow of the Tomb Raider at FHD resolution and High graphic settings yielding an fps count of 98 which can be considered more than decent. The fans ran at full tilt while playing CyberPunk 2077 at medium graphics with no ray tracing enabled, and delivered somewhere around 50-55fps at the highest 2,560 × 1,600 resolution. The fps count improves to about 75-80 at FHD resolution even with High graphic settings. Call of Duty Cold War was more adept at high settings but couldn't go past 100fps in the campaign mode, though it did occasionally touch 140fps in the multiplayer battle royale Warzone.
Less intensive titles like Valorant or Apex Legends easily reach upwards of 170fps at high settings but I had the resolution capped at FHD. 3DMark's Time Spy benchmark score of 7,920 alleviates any remaining concerns about the graphical performance. Heating was never generally an issue while playing and Lenovo's cooling system allowed the fps count to be maintained for long periods of time. The 2W stereo speakers tuned by Nahimic are quite loud and deliver crisp audio quality which enhances the media experience considerably. However, the fan noise can be heard if you are not wearing noise-cancelling headphones. In a nutshell, casual gamers have a potential winner in the Legion 5i and they will not come out disappointed.
Battery life is usually not a strong suite for gaming laptops, especially one with a power-sucking GPU and a 165Hz QHD panel. Even so, the less than 4 hours screen-on time is definitely something that can be improved upon. The 80Whr cell does contribute to a sizeable portion of the device's weight but not as much to keep it running for longer periods of time. For that, the 300W charger, which in itself is extremely bulky, needs to be carried on your person at all times.
Final verdict
The Legion 5i Pro is certainly on the pricier side as far as laptops go, but it delivers exactly what casual gamers might need. While the sub-par battery life and noisy fans could be a slight concern, Lenovo's stellar display and design choices mated quite nicely with the robust keyboard and processing needs, are surely going to win consumers over.
Editor's rating: 4 / 5
Pros
Robust design and great colour scheme
Great performance
Excellent display with Dolby Vision
Amazing speakers
Cons
Lacks SD card slot
Poor battery life even by gaming laptop standards
Fans make a lot of noise