Lenovo Yoga Duet 7i review: a classy hybrid 2-in-1 for work and play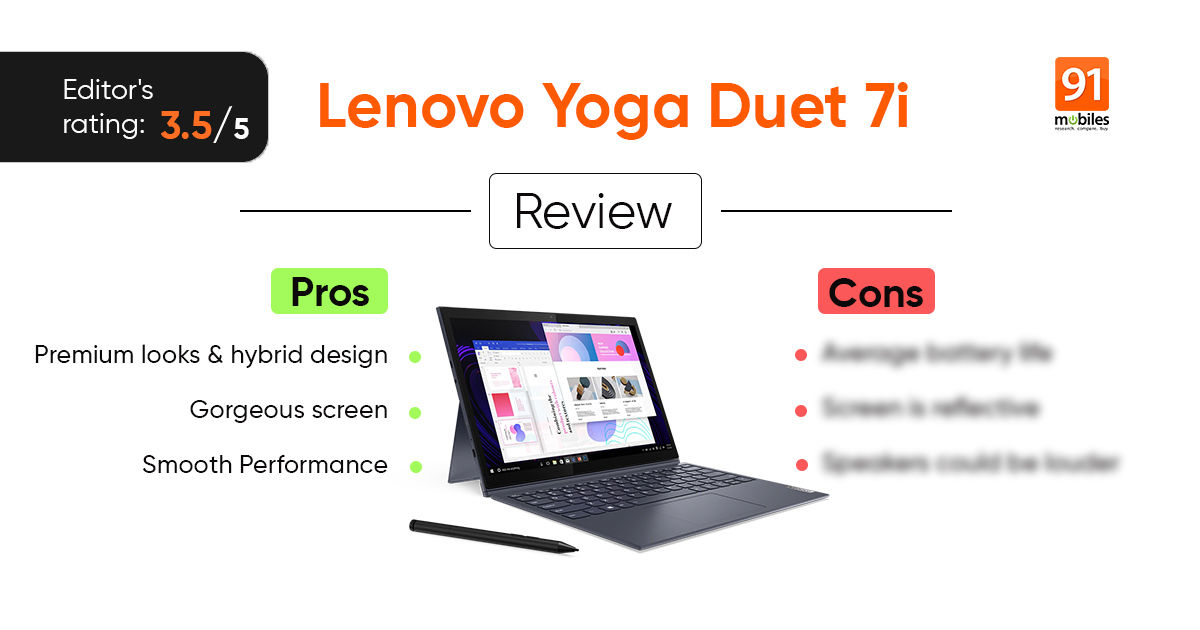 Work, play, rinse, repeat. That sums up my requirements from a laptop these days, and if you've been working from home like me, I'm guessing you'd know exactly what I mean. The current use cases are driven by work from home, learn from home and BYOD scenarios, and that's something Lenovo's Yoga range of devices typically work well for. Take the new Lenovo Yoga Duet 7i, for instance. This tablet cum laptop does seem like a very interesting proposition, given everything it offers, and thanks to its stylish look and feel, scores high on aesthetics too. Read on to find out how it fares in day-to-day use.
The Yoga Duet 7i offers the 2-in-1 detachable form factor popularised by Microsoft's Surface lineup. One part of the Duet 7i is a 13-inch tablet running Windows, and the other is the keyboard folio that attaches magnetically to turn the device into a full-fledged laptop.
Clad in metal, the Dual 7i feels quite premium, and features a kickstand at the back that helps prop it up on a flat surface. Up front is a 13-inch touchscreen, with noticeably wide bezels. When it's propped up on its kickstand, you'll see the vents on top, and stereo speakers on the sides. The power key is placed on the right spine (in the same orientation), along with a volume rocker and a Thunderbolt 4 port. On the left is an audio combo jack, a microSD tray, and two USB Type-C 3.2 ports. One of these two ports is always on, while the other is used for charging, offering PD and DisplayPort support. Atop the screen, there's a 5MP fixed focus shooter, while a 5MP autofocus camera is placed on the back.
Moving on to the detachable keyboard, it's quite slim and clad with textured fabric on one side. When attached and folded atop the screen, it lends a nice, premium look and feel to the device. Another interesting bit is that the keyboard is actually Bluetooth enabled, and you can use it without actually connecting it to the tablet too. The keyboard has a slider switch on the side to power it on, and the built-in battery gets charged when it's attached to the tablet.
The 13-inch, 16:10 display is super sharp, offering a resolution of 2,160 x 1,350 pixels. My only gripe with it is that it's glossy, but other than that, offers great visuals and wide viewing angles. What's more, Dolby Vision is supported as well, which bodes well for streaming OTT content on it. I don't have an issue with the bezels since they come in handy while holding the device and using it in tablet mode.
Over time, I've come to love the keyboards Lenovo offers on its laptops, and thankfully, the one on the Yoga Duet 7i is almost the same. The keys have that signature rounded shape at the bottom, are well spaced out, and offer ample travel. I consider myself a slow typist and also a slow learner when it comes to adapting to a new keyboard, but the Yoga Duet 7i's keyboard got my fingers flying in no time. The trackpad is large, and quite responsive too. The only niggle I have with the Duet 7i's keyboard is that it's very slim, and flexes slightly in the middle when pressure is applied on it.
Handling number crunching on the device is the 11th-gen Intel Core i5-1135G7 CPU, mated to 8GB of RAM and 512GB of M.2 SSD storage. Intel's Iris Xe graphics are on board too. The combination doesn't set the benchmarks on fire, but still packs in enough grunt to handle all the usual productivity tasks. Keeping multiple Chrome tabs, and working alongside on Slack, MS Office documents, thumping out emails while exchanging messages with colleagues, and jumping in and out of calls on Google Meet, Zoom and the like is a piece of cake for the device. Needless to say, it's not ideal for gaming, though you should still be able to run casual games on it if you want.
Overall, the Lenovo Yoga Duet 7i is a fun device to use, because not only does it look and feel good, the hybrid form factor and the built-in kickstand give you the flexibility to use it in a variety of different modes. Laptop by day, and tablet by night… that's how I like to think of it, since that high-res Dolby Vision screen is great for watching videos, propped up on the bed or a table. Did I mention you get an active pen included in the pack? That comes in handy for jotting down notes, doodling, and annotating documents, but you should know that the device doesn't have a slot or a place to attach the pen, so you'd need to carry it separately. The speakers left me wanting for more in terms of volume, so that's another gripe. There's no fingerprint scanner, but face unlock via Windows Hello is supported, and works extremely well too. This is enabled by the 5MP webcam above the screen, but there's another 5MP camera at the back too.
Another interesting feature is the preloaded Alexa app, which basically converts it into an Alexa-powered smart display, complete with always-on mics waiting for you to utter the wake word. Sure, the speaker quality won't match, but you can always connect an external speaker to it if you want to use it for hands-free music playback. Most of the other features of an Alexa-powered smart display are supported, included voice queries, smart skills, announcements, timers, alarms, and smart home control. The only caveat: battery life. I'll talk more about that, but worth mentioning that the Yoga Duet 7i runs Windows 10 Home, and also comes with MS Office 2019. A few utilities are included as well.
The 4-cell, 41Wh battery is rated for up to 8 hours of use, but unfortunately, falls a bit short. I was able to eke out about 5-6 hours on a single charge, which means having to plug in the charger by early afternoon. The bundled 65W adapter comes with a Type-C connector, and juices up the device fully in a couple of hours.
Verdict
For its asking price of Rs 79,999, the Lenovo Yoga Duel 7i doesn't come in cheap and commands a premium over similarly-specced, conventional laptops because of its hybrid form factor. The latter is its mainstay anyway. The battery life isn't a strong suit, but the device delivers on aspects like display, reasonable performance, usability, keyboard ergonomics etc. Aesthetics are among its strongest talking points, while the flexibility it can offer does make it worth considering too.
Editor's rating: 3.5 / 5
Pros:
Premium looks & hybrid design
Gorgeous display with Dolby Vision
Smooth Performance
Cons:
Average battery life
Reflective screen
Speakers could be louder