Meet the top 5 electric cars sold in India in 2021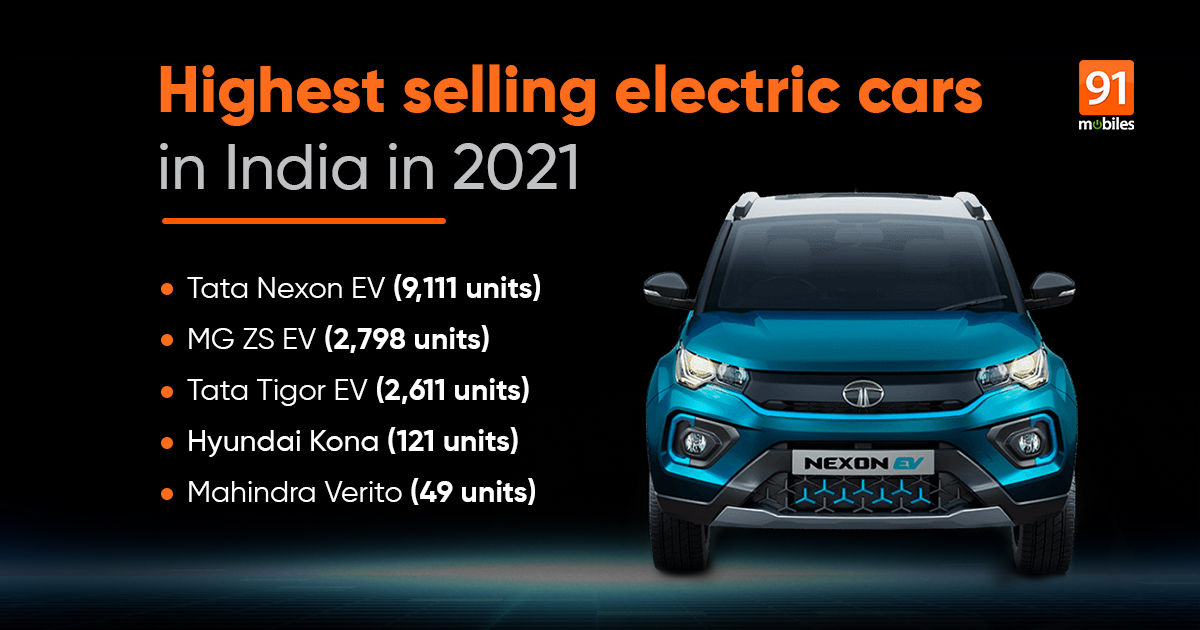 Highlights
Top five EVs in 2021 in India statistical data is out
Tata Nexon EV leads the show with 9,111 units sold in the year
Three out of five EVs sold in India are made by Indian manufacturers
One look at the list of cars currently on sale in India will highlight the sheer number of EVs that are in the market now. However, a bulk of the EVs in India are lower down in the market segment and majorly fall under the Rs 25 lakh mark. The stats for the top five EVs sold in India in 2021 are out and show a healthy growth in the number of EVs that have been sold in India. Unsurprisingly all of the entrants in the list hail from the sub-Rs 25 lakh segment despite cars such as the Mercedes Benz EQC and Jaguar i-Pace being present in the market. Let's take a look at the green cars which have done good business for their respective manufacturers.
5 best-selling electric cars in India in 2021
1. Tata Nexon EV – 9,111 units
First on the list is Tata Nexon EV. This indigenous product from the iconic Indian brand Tata Motors is nothing short of what Tesla was for the USA. We earlier reported that the Tata Nexon EV earlier crossed the 13,500-lifetime sales mark, and the report card for 2021 is out too now. A total of 9,111 units of Tata Nexon EV are sold in India in 2021. The Tata Nexon EV, which is due for an update this year, currently boasts of 321km range from its 129hp (245Nm) motor, paired with a 30.2kWh lithium-ion battery pack. The range starts at Rs 14.29 lakh, ex-showroom before subsidies.
Tata Nexon EV sold more units in 2021 than the next four most popular EVs combined.
2. MG ZS EV – 2,798 units
Another popular EV that is currently on sale in India, the MG ZS EV, is the only EV from the MG Motors portfolio and is also due for an update very soon. The MG ZS EV sits in a segment higher than the Tata Nexon EV both in terms of pricing and performance. Yet, it has managed to garner good sales in 2021. With 2,798 units taking to the road in 2021, the MG ZS EV with its 419km range (delivered by a 143 hp/ 353 Nm electric motor and 44.5kWh lithium-ion battery pack combo) has impressed many. Prices for this EV start at Rs 21.49 lakh, ex-showroom before subsidies.
3. Tata Tigor EV – 2,611 units
The Tata Tigor EV — with its Tata Nexon EV-derived ZipTron powertrain — entered the EV arena in India in 2021 only and quickly managed to get hold of 2,611 orders. Proving its mettle yet again, this Tata Motors product delivers 75hp (170 Nm) from its electric motor, which is paired to a 26kWh lithium-ion battery. The result is a 306km range and a price tag of Rs 11.99 lakh, ex-showroom before subsidies, putting it in the more affordable range.
Also Read
This Tata Nano EV was custom-made for Ratan Tata: full details here
NHEV sets up India's largest EV charging station in Gurugram that can charge 100 EVs at once
EV sales in India grew 240 percent YoY in December 2021, Uttar Pradesh leads the charge: report
4. Hyundai Kona EV – 121 units

Hyundai Kona EV is one of the older products in the market and is a global product from the Korean auto giant. The impressive fit and finish, modern design, and features seem to have impressed 121 buyers, who helped bring it to the fourth spot on this list. The Kona EV gets a 136 hp (395 Nm) motor paired to a 39.2kWh lithium-ion battery that together delivers a range of 452km. The Hyundai Kona EV is priced at Rs 23.79 lakh, ex-showroom before subsidies.
5. Mahindra eVerito – 49 units
The Mahindra eVerito is the oldest product on this list and is also not available for private buyers. This EV has managed to attract 49 customers into the showroom with its 110km range coming from a 72V powertrain consisting of a humble 41hp (91Nm) motor. The eVerito retails for a sticker price of Rs 10.16 lakh, ex-showroom before subsidies.