Realme Pad review: disrupting the affordable tablet segment?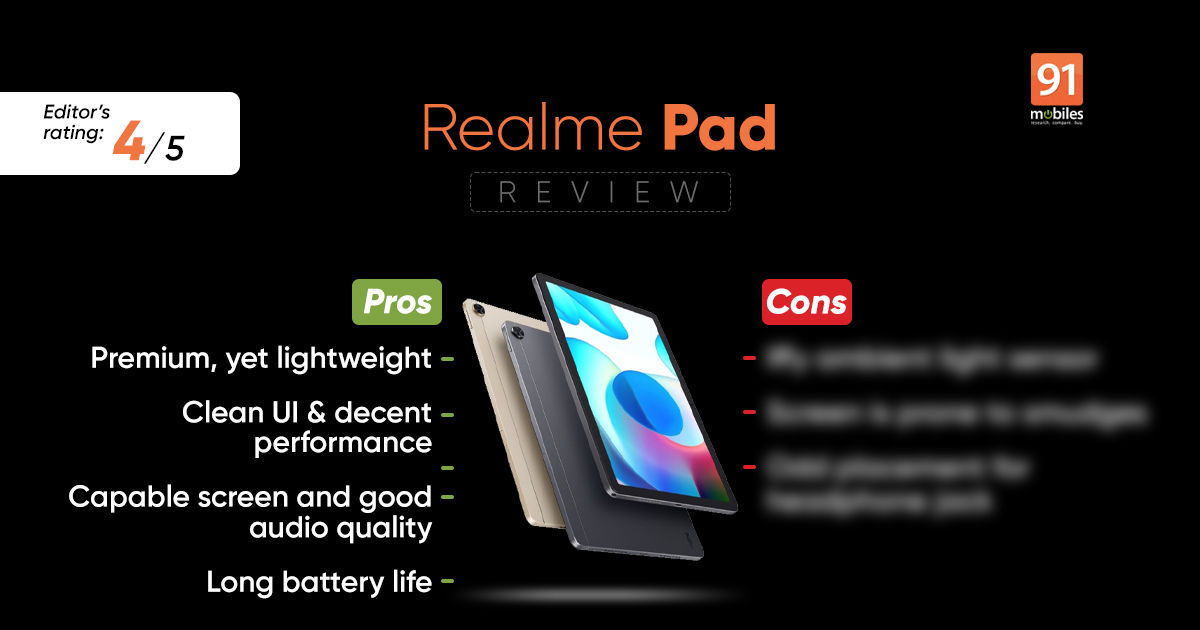 While the premium end of the tablet spectrum is ruled by the likes of Apple and Samsung, the affordable arena seems to be ripe for disruption. Sure, while the same brands and others like Lenovo do have affordable tablet options, let's just say the offerings are not too exciting. Enter Realme with its very first slate, dubbed the Realme Pad. Is it the disruption the affordable tablet segment has been waiting for? Let's find out.
Table of Contents
Design and display
Right from the get-go, the Realme Pad leaves a lasting impression. Clad in a metal body made out of aluminium alloy, the Pad looks quite premium. The chassis is a mere 6.9mm thick, and tipping the scales at 440 grams, is quite lightweight too. The screen dominates the fascia of course, and there are noticeable bezels all around. While they impact the premium looks slightly, I found that the bezels actually make holding the tablet easier, without triggering any inadvertent screen touches. The tablet is light enough to hold with one hand, and that bodes well for those who'd like to use it for reading, browsing the web, and watching videos… which are its main use case anyway.
Holding the slate in landscape mode, you'll see quad speakers on the side, with the power key placed on the left spine and the right housing the Type-C port. On top is the volume rocker, along with a pair of mics and a tray that accepts a nano-SIM and a microSD card. The 3.5mm headphone socket is tucked away into the bottom right corner… which is an odd placement since it ends up getting in the way when you have wired headphones connected and are holding the slate using both hands.
Switch to the back, and you'll see a sliver accent running on top, with the rear camera prominently making its presence felt towards the right. The bottom left bears Realme branding. Overall, the design is minimalist, devoid of flashy elements, and looks elegant. I have the grey colourway for review, but you could opt for a slightly more flamboyant gold variant too.
The 10.4-inch WUXGA+ (2,000 x 1,200) LCD display takes centre stage up front, and is nice and vivid too. It can't boast the goodness of an AMOLED panel, or niceties like high refresh rate or HDR support, but outputs good, punchy colours, and gets sufficiently bright for outdoor usage too. As far as tweaking options are concerned, the display settings allow you to toggle dark mode, night light, and reader mode, based on your preferences and to suit the content you're viewing. The screen does collect a lot of smudges and fingerprints, so you might end up wiping the screen quite often. However, I did find the ambient light sensor iffy during my usage, with the screen brightness fluctuating on its own without reason. Turning off adaptive brightness and setting the luminosity manually did the trick, but this is something that Realme should sort out.
Software
Software-wise, the device runs Realme UI for Pad, based on Android 11. I wonder why they gave it a different name, because as far as I can make out, it's almost completely stock, with no bloatware. You do get the option of running two apps together in split-screen mode, which is always nice to have when there's enough screen real estate. Another handy feature is the preloaded Google Kids Space, which lets you set up kids' profiles as separate users, making use of Google's parental controls and Family Link app.
Once you set it up and switch to a kid's user account, the home screen interface changes into a bright, child-friendly affair that provides access to age-appropriate content including videos, books, games, etc. It also allows parents to monitor their children's screen time and usage, and needless to say, can be super useful in this day and age.
Performance and battery
Powering the show is MediaTek's Helio G80 SoC, which is a 12nm octa-core chipset that actually debuted early last year on Realme's own Narzo 10 (review). Now, you can't expect fireworks as far as performance is concerned, but day-to-day usage is still smooth for the most part. On board is 3 or 4GB of RAM depending upon the variant you choose, and you'd find that the device turns in a smooth performance for most day-to-day use cases like running social apps, browsing the web, playing casual games, viewing OTT content, etc. There's some stutter while browsing menus and scrolling lists on occasion, but nothing that could potentially break the deal.
Speaking of OTT content, Widevine L1 support is there. The quad speakers that support Dolby Atmos are a true delight, churning out rich and loud audio and negating the need for headphones. I won't get into the details of the cameras, but the front 8MP shooter does a good job for video calls, and the rear snapper is there if you need to shoot something in a crunch. There's no fingerprint scanner, but you do get face unlock for authentication which works fast when given enough light. For connectivity, there's dual-band Wi-Fi, Bluetooth 5, GPS, and 4G support as well. You can actually use the tablet to make calls if you want, but the 4G support should definitely come in handy for accessing cellular data while on the move.
The 7,100mAh battery is yet another feather in the Realme Pad's well-adorned cap and lasts quite long. Typically, a tablet sees intermittent usage, and if that's how you plan on using it, you can expect it to last 2-3 days, but the device lasts long on single charge even if your usage is continuous and heavy. The bundled 18W charger takes about 3 hours to juice it up, and there's support for reverse charging as well.
Final verdict
The Realme Pad is priced at Rs 13,999 for the base variant that comes sans LTE, and offers 3 gigs of RAM and 32GB storage. Adding LTE to the mix raises the price to Rs 15,999, while the top-end version with 6GB RAM, 64GB storage, and LTE will set you back by Rs 17,999. I think Realme should have added a non-LTE model with 64GB storage as well, but you can avail discounts of up to Rs 2,000 on the two higher variants if you have an HDFC card. As things stand right now, the Realme Pad comes across as a value-for-money option, with the Samsung Galaxy Tab A7 being its closest rival in terms of overall specs. The Tab A7 is priced higher at Rs 17,999 though. Lenovo has some tablet options priced lower, and closer to the Realme Pad, but then, they can't match up in terms of specs. It's not perfect, but overall, the Realme Pad ticks most boxes for a capable affordable tablet, chief among them being the premium yet lightweight design, respectable performance, decent screen, good audio and long battery life. While calling it a disruptor might be a bit of a stretch, it's worth a buy if you're in the market for a slate that can handle the usual content consumption use cases without blowing a big hole in your pocket.
Editor's rating: 4 / 5
Pros:
Premium, yet lightweight design
Clean UI and decent performance
Capable screen and good audio quality
Long battery life
Cons:
Iffy ambient light sensor
Screen is prone to smudges
Odd placement for headphone jack
Related read: Realme Pad vs Samsung Galaxy Tab A7 (2020) specs comparison