Redmi Note 11 review: a Note-ish Note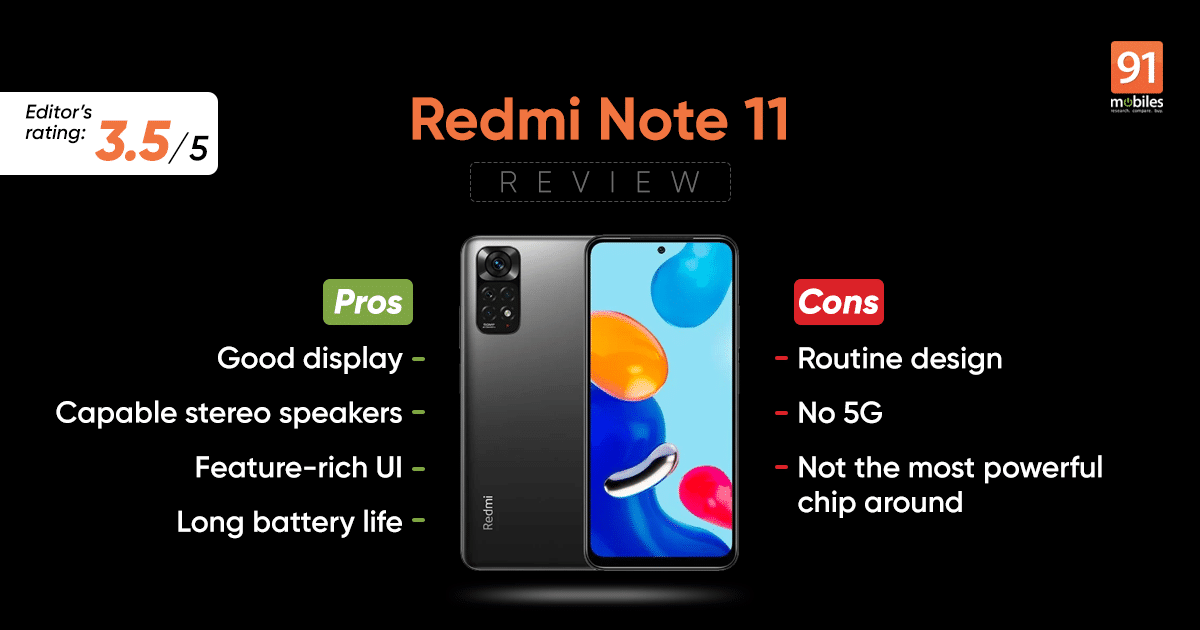 There was a time when Redmi used to launch just a single Note per year. The number then grew to two and as years passed, Redmi decided to release not just a single Redmi Note but a series every year. Even though the brand has started launching multiple Notes, the plain, suffix-less Note still gets a lot of attention. This is because while most of the other Notes in the series might focus on one specific thing or the other (the camera, gaming, 5G), the original Note still aims to follow the Note-ethos that started this series – good old performance at a crazy good price. This year also Redmi has launched a few Note 11 devices already and one of them is the Redmi Note 11– the OG. But does this year's suffix-less Note have the same Note-able likeness about it?
Table of Contents

Looks a little routine, notwithstanding the glitter
When the Redmi Note series was launched initially, the phone was not about flashy, eye-catching design but about delivering a great smartphone experience at an affordable price. The last couple of years saw that change as we saw Redmi launch some really good looking Notes in the Indian market. But unfortunately, the same cannot be said about the Redmi Note 11 as the phone looks routine at best. Do not get us wrong, it is not bad looking but does not look like it will inspire many head turns. The front follows the trend and brings a tall display, thin bezels, a slightly thicker chin and a punch hole notch. But it is the back that looks a bit basic. The phone has a plastic back which looks exactly like it. The back of our Starburst White variant has a colour gradient and a lot of glitter, making it both colourful and shimmery. The plastic look and feel of the back, combined with all that shimmer, makes it not-so-premium looking.
The Redmi Note 11 may not be the best looking Note our eyes have met but the phone does deliver a great hand feel. It feels surprisingly slim and light even though it has a large battery under the hood. It measures 159.87 x 73.87 x 8.09mm and weighs 179g and while the numbers might not sound very impressive, what makes the Redmi Note 11 feel not-so-basic are its trendy flat sides. The phone also feels quite sturdy. Some might frown at the plastic back but we feel the phone strikes a very solid Note, in terms of build quality. Pun intended.
The most eye-pleasing display in its zone
A lot of credit for making the front of the Note 11 look good goes to the tall AMOLED display that the phone sports. It comes with a 6.43-inch full HD+ AMOLED display with a refresh rate of 90Hz. The display produces great contrast and delivers rich, vibrant colours. Even though it comes with a maximum brightness of 1000 nits which is slightly less than the 1100 nits that its predecessor, the Note 10 came with, the display is very readable even under the harshest lights. It is easily the most eye-pleasing display in this price band.
Processor that simply works
The Redmi Note 11 is powered by Qualcomm Snapdragon 680 processor which is paired with 6GB RAM and 128GB storage. It has two more RAM storage variants– 4GB / 64GB and 6GB / 64GB while the storage on the phone can be expanded up to 1 TB via microSD card.
The phone is more about getting your work done than about pushing its gaming muscles. It will swiftly go through your day to day business and boss the casual games arena but do not expect it to sail through high-end games just as smoothly. You will be able to play some power-hungry games on the phone, just not on maxed-out settings.
A quad-camera setup sits on the Redmi Note 11's back. The trio is led by a 50-megapixel main sensor which is backed by an 8-megapixel ultrawide sensor, a 2-megapixel macro sensor, and a 2-megapixel depth sensor. The star of this camera show is the 50-megapixel main sensor, hands down. It delivers good details and bright colours in good light conditions. That said, details take a hit as the light dims down. The 8-megapixel ultrawide is great for providing a different perspective but that is about it. It captures images with compromised details. They are decent to view as long as you do not zoom in. Last and least, the dual 2-megapixel sensors seem to exist only to add numbers. The macro camera does not really deliver great close up shots with a lot of detail. We would rather advise you to use the main sensor and get as close to the subject as it allows. The depth sensor also does not seem to make any major difference in portrait shots, which are as always, a little hit and miss.
The video output is quite decent, especially in well-lit environments but it fails to wow in low light conditions. Rather surprisingly, there is no support for 4K videos. There is a 13-megapixel selfie camera on the phone which produces slightly smooth, brightened selfies and as long as you are not opposed to that idea, they are generally good enough to make it to your social media.
Battery that lasts long, and charges briskly
One of the USPs of the Note series has always been long battery life and the Redmi Note 11 continues this tradition. The phone comes with a 5,000mAh battery with support for 33W Pro fast charging, with a 33W adapter in the box. The phone can easily see you through a day and a half of normal usage which includes app hopping, social media scrolling, dealing with emails, messages, viewing some content and snapping pictures. Be a teensy bit careful and the phone would be able to stretch its battery life to two days. Thanks to the fast charging support, charging that big battery does not feel like a chore either. It can get from zero to 100 percent in slightly more than an hour, which is faster than the 33W charging we saw on Redmi devices last year.
Multimedia boss – that display, those stereo speakers
We have already pointed out that the Redmi Note 11 has the richest, most vibrant display in this price bracket. Pair this with stereo speakers and the phone becomes a multimedia boss. The phone is backed by long battery life, making it the perfect phone to binge-watch shows and movies. The 3.5mm audio jack is also present for those moments when you want your audio to be wired. The relatively light weight of the phone and good handfeel also make it easy to use for prolonged time intervals. The Note 11 also has a physical fingerprint scanner on the side which works very smoothly and unlocks the phone very quickly, so you can get back to what you were saying in the blink of an eye.
Runs MIUI 13, misses Android 12 & 5G
The Redmi Note 11 runs on MIUI 13 which is Xiaomi's latest UI skin. It is clean, hassle-free and quite easy to get used to. The phone does come with pre-installed third-party apps but those can be deleted, and the ads that many used to complain about are also gone. The UI is pretty feature-rich without being overbearing. The new Sidebar feature, which places your favourite apps a tap away is particularly handy. That is the good part about the UI but the problem with the software on the Note 11 is the fact that it still comes with an older Android version out of the box. It is powered by Android 11 which is a bit of a disappointment as Android 12 has been out for a while now and is being seen in the mid-segment as well (the Vivo T1 5G for instance). Those who like their phones to be topped with the latest are also likely to get disheartened by the fact that the phone does not come with 5G, making it not as future-ready as some of the other devices in the market.
The Redmi Note is priced at Rs 13,499 for 4GB / 64GB variant, Rs 14,499 for 6GB / 64GB and Rs 15,999 for 6GB / 128GB option. With its spec sheet, the Redmi Note 11 might not seem like as easy a choice at those prices as some of its predecessors, but the phone is still good value for money. It does miss out on Android 12, 5G and does not have super powerful gaming muscle, but the phone still delivers a well-rounded smartphone experience. It handles the basics like display, battery, sound and day to day tasks superbly, without ever making you feel like you are missing out on much.
It is surrounded by a lot of competition, though, with the likes of Redmi Note 10S lurking in the vicinity at Rs 14,999. That might sound like an old device but comes with a faster, more powerful processor (the MediaTek Helio G95) which might be tempting to those who love gaming. Another option for the game-loving crowd is the Realme 8i which has a MediaTek Helio G96 chip and has a 120Hz refresh rate display (albeit an LCD one) and is available at around Rs 13,500. Then there is the recently-launched Vivo T1 which is a little more expensive in comparison but brings Android 12 and 5G to the table.
The Redmi Note 11 is a good device. One we would recommend to anyone wanting a smartphone for around Rs 14,000, It just does not have that strong an upper hand over its competition that its predecessors used to have. It is a brainy selection, not a no-brainer!
Editor's rating: 3.5 / 5
Pros:
Great display
Capable stereo speakers
Feature-rich UI
Long battery life
Cons:
Routine design
Missing Android 12
No 5G support
Not the most powerful chip around
With inputs from Akriti Rana