Redmi Smart Band Pro review: fitness fiend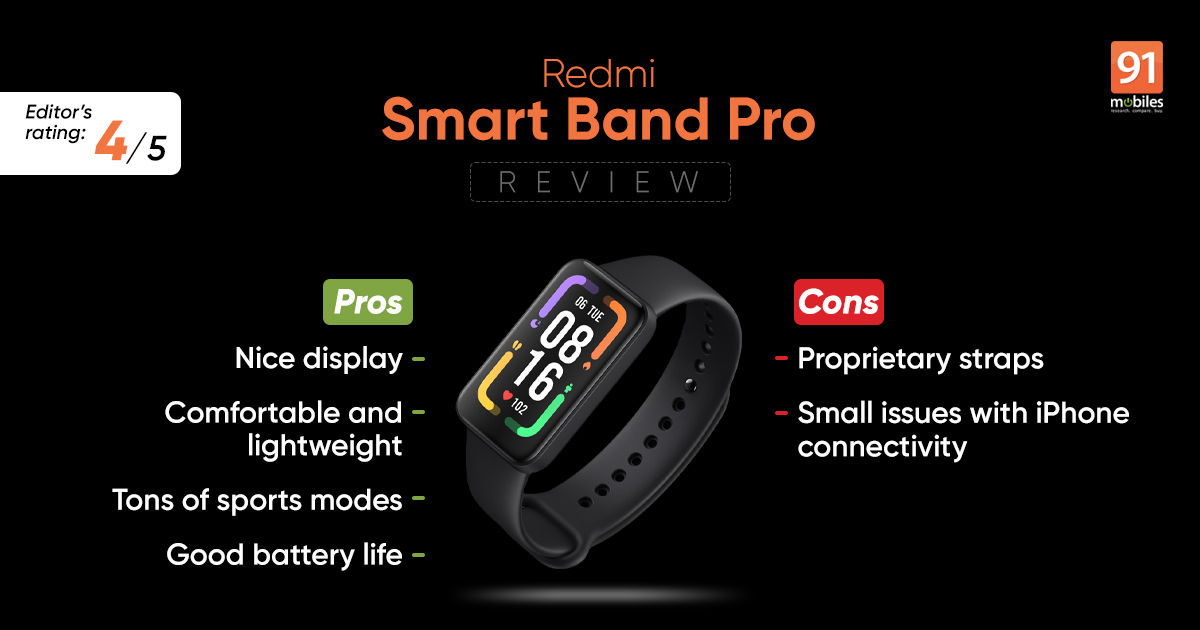 It won't be too far fetched to say that the wearables segment in India has exploded, with a wide assortment of devices available to cater to every need and budget. Wrist-based wearables usually comprise fitness bands and full-fledged smartwatches, though the lines are increasingly getting blurry thanks to different designs and form factors being introduced across a variety of different price points. Most fitness bands offer some smart features, while smartwatches are packed with fitness features as well. Then there are devices that are basically fitness bands but come in watch-like designs. In the fray are brands like Realme, OPPO, OnePlus, Huawei, Noise, Amazfit, Dizo and countless others. Xiaomi is one brand that has a head start on most of these though, having introduced its first Mi Band in the country back in 2015.
The company now has a decent portfolio of wearables, under both Xiaomi and Redmi branding. The latest addition to the list comes in the form of the Redmi Smart Band Pro. The inclusion of 'Pro' in the moniker is interesting, indicating an exhaustive feature list. And the device doesn't disappoint in that regard, despite its attractive pricing. Time to check it out closely to see how well it works.
Table of Contents
Design and display
From a design and form factor perspective, the Redmi Smart Band Pro is quintessentially a fitness band, though it takes the hybrid route by including a larger screen than most typical trackers. Trackers sporting similar designs have been introduced by other brands like Realme, OPPO etc as well, so nothing out of the ordinary here, really, That said, the Redmi Smart Band Pro looks fairly elegant wrapped around the wrist. The device is only available in a black colourway though, and I do wish the brand had introduced more colours. The slim rubber straps are removable, so I'm hoping differently-coloured straps would be made available at a later date. The TPU straps employ proprietary connectors, with one end featuring a loop and the other bearing a metal stud with a pin that goes into one of the holes on the other side. The module in the centre is the key component though, with the rectangular screen on top being the most noticeable element.
Weighing just a little over 25 grams, the Redmi Smart Band Pro is extremely comfortable to wear 24 x 7, and even features 5ATM water resistance so you can take it into the pool without worry. At the back, you'd see Redmi branding, the optical sensors, and a couple of pogo pins where the bundled charging cable attaches magnetically. Worth mentioning here that there are no physical buttons on the device, and the usage is entirely touch-driven. The 1.47-inch, 194 x 368 display uses AMOLED tech, and outputs vibrant colours. At 450 nits, it gets quite bright too, and Redmi has even added in an ambient light sensor to control brightness automatically. While on the subject of the display, worth mentioning that the Redmi Smart Band Pro supports Always-on display too. While it does eat up more battery, it's useful for when you want to take a peek at the time in a hurry. Once you enable it, the band's screen displays basic time information in digital format.
Features
In keeping with the "Pro" in its moniker, the band comes loaded with a plethora of features. The standard assortment of features like weather, stopwatch, timer, alarm, music control, find phone, etc are all there. There's even a remote camera shutter feature, currently in beta. It also mirrors notifications from a paired smartphone, and while there's no way to interact with those directly on the band, its decently-sized screen and elongated shape makes the text quite readable.
Where the Redmi Smart Band Pro shines is the full gamut of fitness features it offers. There's a step counter, heart rate, breathing exercises, stress monitoring, and sleep tracking. Female users would appreciate the women's health features on offer. While blood oxygen saturation has become more prominent in recent times, it has always been a useful metric for sports enthusiasts, trekkers, climbers etc. Accordingly, there's a SpO2 sensor as well. What's more, you can set it to monitor your oxygen saturation levels continuously while you sleep too. The device makes use of the LifeQ Heart algorithm and includes a 6-axis gyroscope and accelerometer, a PPG heart rate sensor, and a vibration motor, along with the SpO2 and ambient light sensors I mentioned earlier.
To top it all off, Redmi has packed in support for a whopping 110 sports modes, and this includes activities as varied as parkour and paragliding under outdoor sports, belly dance and Zumba under dance, kickboxing and fencing under combat sports, beach soccer and something called Sepak takraw under ball sports, and kite flying and fishing under recreational sports. All the usual activities and sports activities are covered of course. I'm not sure if regular folks would find use for many of these, but suffice it to say, you should be able to find your fave physical activity or sport listed. Auto workout detection is supported for walking and running too. There's no built-in GPS though, so you'll need your phone with you if you want the Redmi Smart Band Pro to track your runs.
App and connectivity
The Redmi Smart Band Pro syncs with your phone using the Xiaomi Wear app on Android, and Xiaomi Wear Lite on iPhones. During my review period, I tried the band with both platforms to check how it functions. The functionality is slightly limited on iOS, which is probably the reason why they chose to add the "Lite" suffix to the app name on the Apple App Store. From what I can make out, the key difference is that on iOS, the user doesn't have as much control over notifications as on Android. On Android, the Xiaomi Wear app lists all the apps you have installed on your phone, and you can choose to select the ones you want the notifications from. On iOS, the Xiaomi Wear Lite app only lists phone, messages, mail, and Mi Home, and clubs all others under "Other". That's not necessarily a deal-breaker though and is due to the limitations imposed by iOS. However, I did find minor connectivity issues on iOS, wherein I had to reboot the band to connect with the iPhone each time I switched Bluetooth back on. There were no such issues on Android. I didn't face any syncing issues on either platform though, and the Redmi Smart Band Pro synced data with the Xiaomi Wear / Wear Lite app quickly.
Speaking of, the app itself is intuitive and displays synced data well. You can use it to configure the band, set alarms, choose the apps that can show you notifications, select the workouts you want the band to list, etc. Physical activity data is presented well – you can view steps, heart rate, SpO2, stress etc over a period of time. Sleep data is divided into deep sleep, light sleep, REM and time awake. You can also use the app to configure and set advanced functions like continuous SpO2 monitoring while you sleep, specify the time intervals for heart rate measuring, set alerts for high and low heart rate, customise the raise to wake function and more.
Of course, you can also use the app to choose one from a set of five different preinstalled watch faces, and download more. The choice for additional watch faces is reasonably good, though if you were to ask me, the only comment I'd have on this would be "the more the merrier". You can even use photos stored in your phone's gallery to create custom watch faces, which is neat. That said, I'd love to see more options.
Usage, performance and battery
Overall, I think the Redmi Smart Band Pro functions quite well. I have no complaints with the accuracy or responsiveness. The step counter seems accurate enough, while my sleep timings were also captured well. The raise to wake feature is responsive, and the screen lights up dutifully when you lift up your arm. The swipe-driven interface is decent enough, but could be a bit more intuitive I think.
From the watch face, you can swipe right to access the quick settings, while swiping left cycles through the widgets that show heart rate, SpO2, weather, activity stats etc. These widgets are customisable via the app. There is, however, no direct way to jump back to the watch face while you're scrolling through the widgets. Swiping down on the screen shows your notifications while swiping up shows the icons for the band's various functions.
The battery life is another feather in the cap for the Redmi Smart Band Pro, as it lasted me around 12 days on a single charge. This is quite close to the 14 days promised by the brand. Of course, the battery life would get reduced if you enable functions like the always-on display, continuous SpO2, etc and increase the frequency for heart rate monitoring or bump the screen timeout.
Verdict
The Redmi Smart Band Pro's key rivals include the Realme Band 2 and Xiaomi's own Mi Smart Band 6, among others. The Realme Smart Band 2 offers a similar feature set, and is cheaper too, though it doesn't have an AMOLED display. It does allow you to use conventional 18mm straps though, which is something Redmi's device doesn't offer. The Mi Smart Band 6 (review) comes quite close in functionality and pricing, though between the two, I'd prefer the Redmi Smart Band Pro for its bigger display and always-on screen. Redmi has priced it at Rs 3,999, but the band would be available for Rs 3,499 for a limited period… and for that amount, makes for a solid buy I think. While there might be cheaper options out there, the Redmi Smart Band Pro scores high for its comfortable design, decently-sized AMOLED display, good battery life, and tons of useful fitness and health features.
Editor's rating: 4 / 5
Pros:
Nice display
Comfortable and lightweight
Tons of sports modes
Good battery life
Cons:
Proprietary straps
Small issues with iPhone connectivity