Redmi Watch review: a capable wearable for budget-minded fitness buffs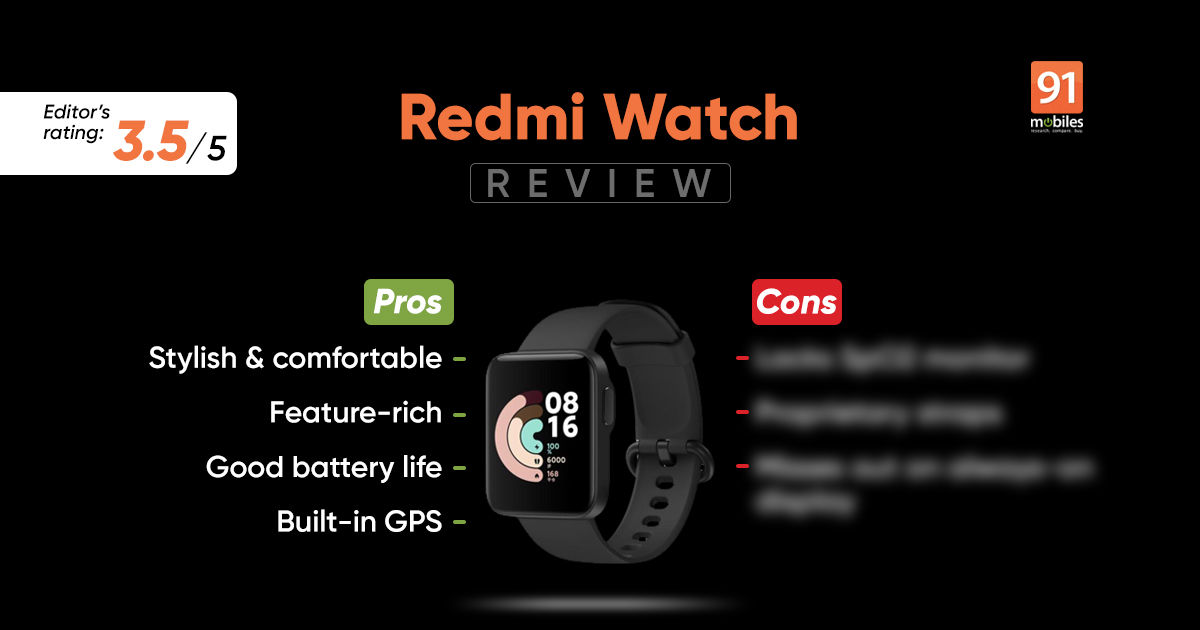 Xiaomi's push to carve a separate identity for its sub-brand Redmi is growing stronger by the day, and the recent launch of Redmi-branded smart TVs in the country is a testament to that. Redmi had already forayed into the fitness band segment previously, and now it's moving into smartwatch territory with its latest launch, unsurprisingly dubbed the Redmi Watch. Time to take a closer look and see how well it works. First, here's a glance at the features.
Features
1.4-inch, 320 x 320 pixel, TFT LCD display
Weighs 35g
11 sports modes
Step counter, heart rate monitor, sleep tracking, guided breathing
Air pressure detection, weather, compass
Built-in GPS and GLONASS
5ATM water resistance
Available in ivory, black and blue
What's good
At first glance, the Redmi Watch resembles many other fitness watches available in this price range, with a square watch case and TPU straps. A closer look, however, reveals how the watch case is colour matched with the straps, giving it a chic look. I'll be honest here – I got the ivory model for review, and while my initial thoughts were that it looked a bit toyish, the look sort of grew on me. The device bears a minimalistic look, and just has a lone button sporting a metallic finish on the right.
The watch is extremely lightweight and quite comfy to wear for long periods. I didn't experience any wrist fatigue at all during my time with it, and it felt comfortable enough for me to wear it to bed too.
The 320 x 320 TFT display features an ambient light sensor, and can adjust brightness based on available light. The screen gets quite bright too, so you won't have trouble reading it even under harsh sunlight.
The raise to wake function is quite sensitive and doesn't need you to perform a deliberate action to get the screen to wake up. It can even be scheduled, so the screen won't light up and disturb your sleep at night.
The device is water-resistant to 5ATM, meaning you can take it with you to the shower, or into the pool if you want it to track your swims.
Speaking of, the device supports tracking 11 sports modes, which includes trail running, walking, indoor and outdoor cycling, pool swimming, open water swimming, treadmill, hiking, and running.
One of the key highlights of the Redmi Watch is the built-in GPS. Now, this is a rarity at this price point, and enables you to record your route for outdoor walking, running or cycling without the need to carry your phone with you. And it works quite well too. Apart from the GPS, the other sensors in the watch include a PPS Heart Rate sensor, a barometer, gyroscope, ambient light, geomagnetic, and a three-axis acceleration sensor.
The Redmi Watch can mirror notifications from a paired phone, and it's a convenient way to quickly check your messages. There's no way to respond to them, but that's par for the course for budget smartwatches.
The swipe-driven interface of the watch is not only quite intuitive, it's quite fluid too. A downward swipe on the screen gives you your notifications, while an upward swipe shows quick settings. Swiping sideways cycles through heart rate, weather, activity summary, and music controller. These screens aren't customisable, unfortunately. The button on the side displays the various functions (or the "apps"), which include stuff like workouts, sleep, stats, compass, air pressure, breathing exercises, alarm, timers, stopwatch, and find my phone.
The device can pair with any Android or iOS smartphone using the Xiaomi Wear app (Xiaomi Wear Lite on the iPhone). The app experience is pretty good, and the data gets synced quickly too. The app lets you control settings for the watch, and allows you to specify the apps that are allowed to send you notifications. The data is presented in neat-looking graphs, though I feel the analysis doesn't look as detailed as what's available with Amazfit and a few others.
The choice of watch faces available is quite extensive, and covers options for different tastes and preferences, including analog, digital, colourful, cartoony, serious, funky, and more.
The fitness and activity data seems fairly accurate, and that bodes well for a budget fitness wearable.
Redmi says the watch can last up to 10 days off a single charge, and while that doesn't seem to be the case based on my testing, it does get pretty close. With my light usage, I got about a week's worth, but do note that this can vary drastically depending upon the screen brightness levels and how often you use the workouts function, especially those that make use of GPS. The device comes with a charging cradle that plugs into a USB port or an adapter and juices up the watch in about an hour and a half.
What's not so good
The Redmi Watch doesn't feature SpO2, and that's a big miss considering how most users are looking for this feature these days. SpO2, in case you didn't know, gives you the level of oxygen saturation in your blood – which is a metric everyone needs to monitor during Covid times. The Redmi Watch doesn't have this feature, and that doesn't bode too well for it given that most of its similarly-priced rivals offer it.
The straps use a proprietary connector to hook up to the watch case, which means you can't use regular watch straps as replacement. Worth mentioning that quite a few competing devices come with conventional watch lugs and quick-release spring bars, letting you use standard watch straps as replacements.
The 'raise wrist to wake' feature works well, and you can even control its sensitivity. You also get an option to keep the screen awake for 5 minutes in the quick settings. However, the device misses out on an always-on display, which can be a handy feature to have. This does impact battery life but is convenient for those who want the time to be visible all the time, pun unintended.
The music controller works flawlessly, letting you control music playback on a paired phone, but can't be used while a workout is ongoing.
Verdict
Positioned in the budget space and carrying a sticker price of Rs 3.999, the Redmi Watch goes up against the likes of the Amazfit Bip U, the Noise Colorfit Pro 3, and quite a few others. The missing SpO2 feature could be a deal-breaker for many, but in case you already have an Oximeter (which is much better and more accurate for measuring SpO2 anyway), and are interested in a budget fitness watch that handles the basics well, the Redmi Watch is definitely worth a close look.
Editor's rating: 3.5 / 5
Pros:
Stylish & comfortable
Feature-rich
Good battery life
Built-in GPS
Cons:
Lacks SpO2 monitor
Proprietary straps
Misses out on always-on display