Samsung Galaxy S22 and S22+ review: iterative upgrades that deliver on most aspects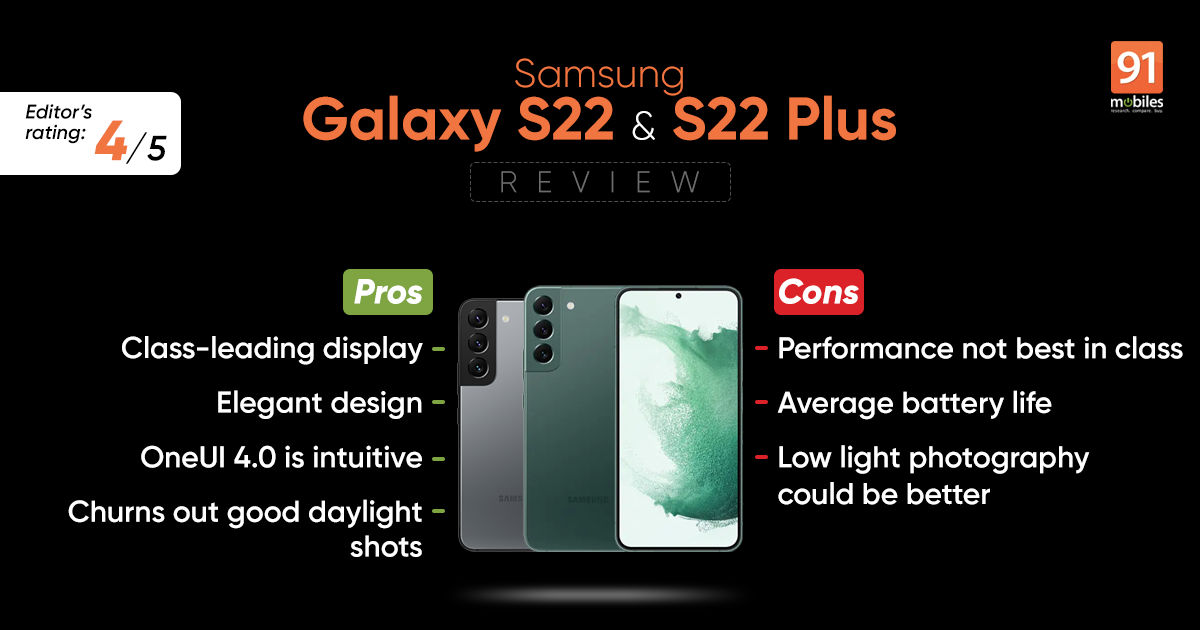 South Korean giant Samsung has revealed new flagships that are part of its long-running and signature Galaxy S series smartphones in the Indian market. With the Galaxy Note series now officially coming to a close, the top-end Galaxy S22 Ultra has taken up the mantel for the enthusiasts that like the S Pen stylus. However, my focus is going to be on the two other devices in the lineup. The Galaxy S22 and S22+ come across as iterative updates over last year's Galaxy S21 (review) and S21+ (review) respectively. Aspects like design, display, and camera setup remain about the same while the major difference comes in the form of Qualcomm's Snapdragon SoC being employed for processing instead of Samsung's in-house Exynos silicone. Like most of the other Galaxy S phones before them, I don't think it comes as any surprise that both the S22 and S22+ grab a good chunk from your wallet. The former starts at Rs 72,999 and the Plus version is priced starting at Rs 84,999.
Since the only major difference between the S22 and S22+ is battery capacity and screen size, I'll be covering them together. I have been daily driving the S22+ for a while and most of my viewpoints will be centered around the device with references to the regular Galaxy S22 when necessary. Talking about competitors, Apple's iPhone 13 (review) does appear as a legitimate challenger to the Galaxy S22 phones alongside the iQOO 9 Pro (review) while the threat of the OnePlus 10 Pro also looms in the not too distant future. Let's find out if Samsung has succeeded in providing a superlative flagship experience like usual.
Table of Contents
Verdict
The Galaxy S22 and S22+ offer a near-complete modern-day flagship experience, but with a few drawbacks. There is the class-leading AMOLED panel, excellent daylight photography that will appeal to social media users, great software, amazing speakers, and elegant design. However, power users might be disappointed with the throttling of the processing capabilities of the device while photography enthusiasts could lament the low-light image taking on the primary sensor of the phones.
Design and display
I was a big fan of the S21 series' contour camera cutout design, which merged the triple-camera housing seamlessly with the rails, and the smooth matte-finish coating across the back panel. Samsung appears to have intelligently adopted a policy of 'if it ain't broke, don't fix it' with the S22 series as well. Although the camera housing has a slight seam while meeting the frame of the device, both S22 phones have an identical design language from last year. It lends a touch of elegance to the phone and also makes it uniquely identifiable from a distance, which should appease people who like to flaunt their expensive purchases. My review unit of the S22+ comes in the Phantom Black colour and I absolutely adore its stealthy look while the dark finish acts as a fingerprint deterrent. The regular S22 also gets a glass back, which was a design trait absent in last year's S21. The variant I have received is Phantom White which has a pearlescent finish and a silvery hue that shimmers in the sunlight but its facade is easily tarnished by dust and smudges. Both the S22 and S22+ are IP68 dust and water-resistant, which is a common trait on flagship Samsung devices.
There is no physical fingerprint sensor and instead, Samsung is using its trusty ultrasonic in-display fingerprint reader. The tactility of the power button and the volume rockers on the side has never been in question although I am disappointed to see the latter's high positioning not being rectified from last year. The S22 series features a more boxy look with sharp edges and it happens to be a personal preference of mine as compared to the curved back of the S21 series. However, I am not the biggest fan of the S22's metallic glossy rails, mostly because a matching matte finish would have looked nicer and provided a better grip.
Surprisingly the S22 Plus and S22 have lower battery capacities than their previous iterations but neither device is particularly lightweight. There is Corning Gorilla Glass Victus protection at the back but I highly recommend getting a nice case to protect your S22 from accidental falls. It appears that the dedicated Bixby button is not likely to make a comeback any time soon after being excluded from this year's Galaxy S phones as well. On the phone's bottom, there is the usual selection of a USB C port, speaker grille, and a dual-SIM slot. There is no headphone jack and the earpiece doubles up for providing stereo sound. All this to say, I am more than happy with Samsung's decision to not make any major changes in the design department from last year's models.
Samsung is in the business of making OLED panels for smartphones of all OEMs across the globe but it stands to reason that it will reserve the best hardware for its own devices. The Galaxy S22+ has a 6.6-inch Dynamic AMOLED panel while the regular S22 measures 6.1-inches. As compared to last year's S21 series, both phones are 0.1-inch shorter but that's about all the difference there is. There's really nothing more visually appealing than an S series display and every year the South Korean giant keeps up to its reputation. The panel is FHD+ in resolution, as opposed to QHD+ which is privy only to the Ultra model, and offers up to 120Hz refresh rate. Both devices can oscillate between 48Hz to full 120Hz depending on the supported apps. There is HDR10+ certification on the device and both Netflix and Amazon Prime can display their OTT content in full HDR glory.
The viewing angles are excellent with deep blacks accentuating the vibrant colour profiles that make browsing and watching anything a visual pleasure. Average brightness levels on both devices are somewhere around 650 nits but peak brightness can touch a whopping 1,700 nits on the S22+ and 1,350 nits on the S22, making the panels great under even severe sunlight. There are a plethora of display customisation options available for you to peruse including six different ways to arrange the colour palette, adding high contrast themes, colour inversion toggle, and more. The high refresh rate enables silky smooth usage with no jitters or lags and the super symmetrical bezels all along with the panel just add that touch of extra refinement expected from a high-end flagship like the Galaxy S22 lineup. In short, the S22 and S22+ provide the best viewing experience that is possible in the high-end smartphone world.
Cameras
In terms of rivals, Samsung mainly competes with Apple when it comes to flagship-level image-taking prowess. Flagships from the likes of Vivo, OPPO, OnePlus, and Xiaomi are in contention too of course. The Galaxy S22 Plus and S22 have an identical camera setup which includes a 50MP primary shooter, 12MP ultra-wide sensor, and 10MP telephoto lens with 3X optical zoom. Housed in the hole punch up top is a 10MP selfie camera. I have a lot to say about the S22's photo-taking capabilities so let's start first with daylight photography, which is one of its strongest suits.
High detailing and super-wide dynamic range with a tinge of saturation to colours make up most of the images. The crispness in the photos along with superb edge detection is evident in shots captured even in challenging scenarios. Auto HDR does make subtle enhancements to the shots, most notably when more of the shadowy areas are exposed for better detail. Overprocessing is negligible with sharp focus metered across the frame in good lighting conditions. The S22 phones lack the laser autofocus present in the Ultra model but still offer extremely fast autofocus speeds, although the shutter lag is slightly noticeable. I clicked a few fast-moving objects in front of me and got the subject in focus most of the time, but noticed some blur in a few scenarios. The pictures are 12.5MP pixel binned shots but you can use the full 50MP might of the primary sensor for a better dynamic range and a much larger crop-in area. Portrait mode works best only at 3X zoom which is a bummer since I have to stand a lot farther from the subject. However, the end result is gratifying enough for me.
Other camera features on the device include a scene optimiser which works more or less like Samsung's counterparts by robbing the image of its natural colours. There is also a tracking auto-focus toggle in the settings menu that promises to keep a subject in focus even if it is moving, but the results can be slightly iffy. A bevvy of filters is also included to add more gravitas to the shots and appease social media buffs. The ultra-wide sensor offers sharp focus and minimal overprocessing across the frame. Edges are slightly warped but the colour temperatures are maintained to a very high degree as compared to the primary lens. Worth mentioning that the sensor does not have integrated macro shooting capabilities like a few other phones in the segment. The 3X telephoto shooter captures great shots with sharp focus and minimal oversharpening of details. However, its functionality does diminish slightly as the lighting gets poor.
There are a few issues during nighttime photography which become more apparent to smartphone purists such as myself. To the untrained eye, the Galaxy S22 takes more than acceptable low light shots but in my opinion, at its price point, having acceptable shots is not going to cut it. There is nothing inherently wrong with the level of detail in the shots and the highlights of subjects are defined well. However, while zooming into several shots there is the clear impression of oversharpening and introduction of noise in the night sky. Colours are not consistent with the street lights saturating the foilage in the frame to unnatural levels sometimes. The ultra-wide shots are less than ideal in terms of detail but the exposure levels are handled well. The dedicated Night mode offers some relief in terms of colour accuracy and correct exposure levels, but I still noticed some noise that crept into the shots. The low-light photography does have scope for improvement. Of course, all of this can be worked out easily in a future software update as Samsung has done it time and time again on its previous flagship phones.
Talking about the video shooting capabilities on the device, the Galaxy S22 can shoot a whopping 8K resolution footage but only at 24fps. 4K and 1080p videos can be shot at 60fps while the Slow-mo and Super Slow-mo are captured at 240fps and 960fps respectively. During my time shooting videos using the device, my experience was mostly fine. Stabilisation was great and the focus speeds were good enough to post content on social media handles. However, I still preferred the video clarity and colour accuracy on my three-year-old iPhone 11 Pro, which should be a testament to how good Apple's video-taking abilities still are. Apart from that, the phone's 10MP selfie camera is able to churn out highly detailed photos with slightly off skin tones but with exposure handled well.
Performance and software
This year is a big one for Samsung as it is finally introducing Qualcomm Snapdragon chipsets on its flagship smartphones in the Indian market after years of launching phones with in-house Exynos SoCs. My main reason to get excited is that Qualcomm chipsets are usually perceived to be a shade more powerful and power-efficient than their equivalent Exynos silicone. The Galaxy S22 series is powered by the Snapdragon 8 Gen 1 SoC that has already made its way to a few phones in the Indian market, including the iQOO 9 Pro. However, there have been reports circulating of apps that Samsung is throttling on the phone to prevent overheating and excessive battery drain. This was later confirmed by the company itself and Samsung has said that it will be rolling out a software update to let users choose which apps to throttle. The culprit appears to be a preloaded service called Game Optimizing Service (GOS) which, reportedly, instead of optimising the gaming experience chooses to limit it. To make matters more confusing, it seems that not only games but apps such as Netflix, Instagram, and a few of Google's apps have also been reportedly throttled.
In any case, benchmarks, reportedly, have remained unaffected from this throttling and can paint a picture of the device's true performance. To get a better idea of throttling, I ran the CPU Throttle benchmark and at one point the CPU was working at less than 60 percent of its peak performance, which is quite low for a flagship device. The performance graph remained erratic through the 30 minutes of testing and the CPU temperature rose to 54 degrees. I also ran 3DMark's Wild Life Extreme Stress test to get another set of numbers and the results remained the same. 3DMark gave the phone a stability score of 48.4 percent while the same test gave the iQOO 9 Pro, running the same chipset, a score of 77.9 percent. On Geekbench 5's multi-core test the Galaxy S22 Plus got a score of 3,052 and on Antutu V9.3.1 the overall score was 853,904. Whether there is throttling or these are actual results from the chipset, I feel that consumers are not getting the full potential of the Snapdragon Gen 1's processing capabilities. The good news is that there should be an update available soon to address this.
In terms of actual real-world usage, however, these differences are minor incursions on the otherwise smooth usage. Apps open and can be switched between fluidly and GPU-intensive titles run without hiccups although BGMI does not have the 90fps option that was seen on last year's flagship devices. The S22 Plus does get a bit hot under my hands during intense BGMI gameplay wherein the battery drain is nearly 12 percent after a 30-minute session at Extreme (60fps) frame rate and HDR graphics. The 8GB DDR5 of RAM can be extended by over 8GB more using the virtual RAM feature which borrows the memory from the 128GB or 256GB of UFS 3.2 storage.
There are other aspects of the device that are more impressive, such as the ultrasonic fingerprint sensor which takes only a single tap to authenticate. Facial recognition works like a charm on the device and its detection under low lighting is quite impressive. Samsung has been offering a stellar audio setup on its S series devices and the tradition has continued with the capable dual-speakers with Dolby Atmos on the Galaxy S22. 5G is present on the device, and in my usage, the 4G LTE connectivity on Jio's Chennai circle along with earpiece and microphone functionality remained optimum.
The South Korean giant has steadily gained a lot of ground in terms of regular software updates and making its UI more user-friendly while retaining vestiges of the trademark Samsung look. One UI 4.0, based on Android 12, is an implementation that has left me reasonably happy while exploring the tons of customisation options, some of which are buried deep inside the settings menu. Samsung is also offering up to 4 years of new Android updates and 5 years of security updates on the device, which is more than what even Google offers for the Pixel 6 series. With a myriad of settings to sort through, One UI can sometimes become a bit cumbersome but many things can be controlled from the quick settings up top. Samsung's partnership with Microsoft means that you get several of the latter's apps pre-installed on the phone. Samsung's desktop-grade computing solution DeX can be wirelessly cast on any Windows 10 or 11 laptop. I used it for a fair bit on my Xiaomi UltraBook and the feature does work flawlessly. I think that One UI 4.0 does have some scope for improving ease of access but it is overall one of the nicer Android skins in the market.
Battery
The Galaxy S22 has a 3,700mAh cell while the S22 Plus+ with a 4,500mAh battery capacity. Both these figures are 300mAh lower than their respective predecessors and it stands to reason that battery life is not going to be greatly improved. Looking at PCMark's Battery 3.0 test, the S22 got a score of 11h 31m while the S22+ fared marginally better with 12h 7min. Neither of the results is extremely impressive. I managed to drain out the S22+ to 11 percent in about 12h 55m since the last full charge, of which the screen-on time was just 4h 12m. Granted I did play an hour of BGMI, but I still feel that a flagship-level phone should output at least 6 hours of screen on time even under hard usage. There is, of course, no charger inside the box but the S22+ does support an improved 45W wired charging while the smaller S22 has standard 25W charging. Wireless charging speeds on both devices are capped at 15W and you can use the phones to reverse wirelessly charge at 4.5W.
Final verdict
The Galaxy S22 and S22+ are definitely the benchmark for a complete flagship experience and will be the phones to beat by the likes of OnePlus, Apple, Xiaomi, Vivo, and others. The suppression of the Snapdragon Gen 1's full capabilities could deter a portion of mobile gamers that look towards a flagship phone for its processing capabilities. Other than that, the low-light photography department, when compared to similar devices from Apple, also has scope for improvement. Battery life remains above average and should be taken into consideration while purchasing these devices. However, the S22 lineup offers a supreme in-hand feel and a polished design that wins brownie points in my book. The regular software updates and longer-term support for new versions of Android are also a big plus. And of course, there is no beating the S22's display which remains the best in the segment. Lastly, casual photography enthusiasts should find a good enough refuge with the S22 lineup's daylight image-taking abilities.
Should you go for the iPhone 13? I think if performance matters a lot to you alongside an all-around camera experience while foregoing the customisability offered by Android, the iPhone 13 is a great choice right now. For Android purists looking for solid hardware at the premium price point, the Galaxy S22 and S22+ could be your phones of choice.
Editor's rating: 4 / 5
Pros:
Class-leading display
Elegant design
One UI 4.0 is intuitive
Churns out good daylight shots
Cons:
Performance not best in class
Average battery life
Low light photography can be better