Samsung Galaxy Watch4 Classic review: the best made better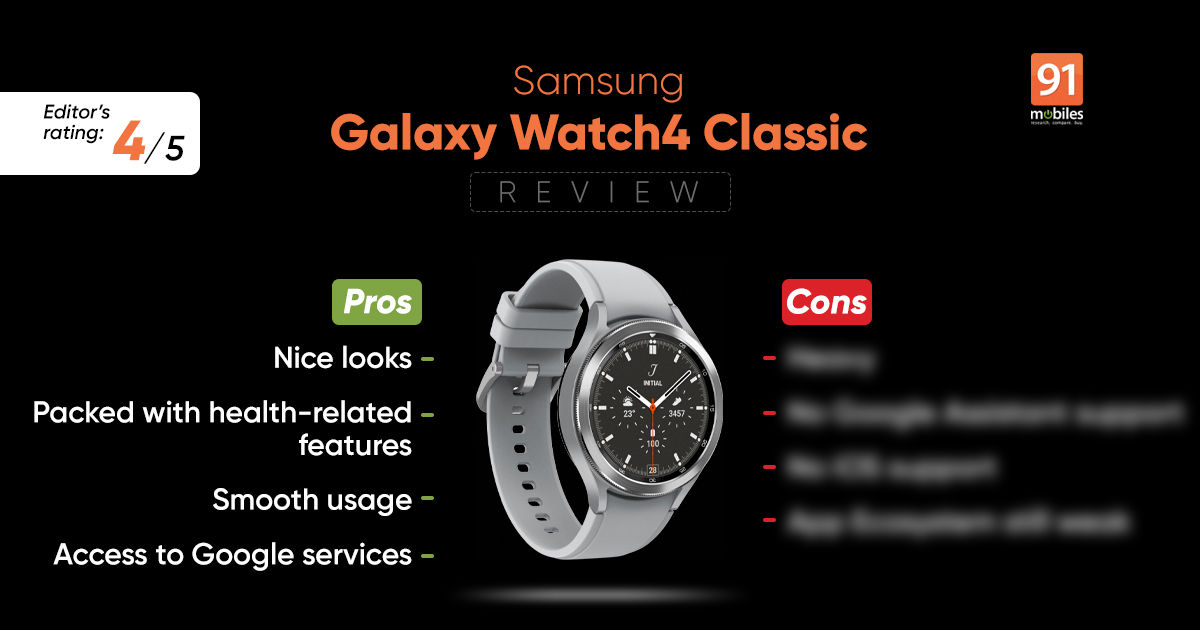 The new Galaxy Watch4 Classic and its sibling the Galaxy Watch4 mark an interesting milestone in Samsung's premium smartwatch folio. You see, these watches run Wear OS 3 platform, with Samsung returning to Google's smartwatch OS after a long time, giving up Tizen OS in the process. Now, the Tizen-based Galaxy Watch3 (review) was already the best smartwatch for Android users… so how does the move to Wear OS work out for its successors? I have the Galaxy Watch4 Classic strapped to my wrist, and I might have some answers for you.
Table of Contents
Design and display
Before I get into the specifics, a note on the differences between the Watch4 and its Classic sibling. The Watch4 Classic and the Watch4 are very similar, at least in terms of functionality and features, with the former opting for a more traditional look and a stainless steel case as compared to its lighter, smaller sibling that uses aluminium. One of the biggest differences among the two is that the Classic features the rotating bezel that allows you to navigate the menus. With that out of the way, let's check out the Classic a little more closely.
Design-wise, Samsung hasn't changed much when the Watch4 Classic is compared with its predecessor. In fact, you'd be hard-pressed to tell the difference. I have the 46mm model strapped to my wrist, and it looks divine with its understated looks. You really have to be a fan of traditional watch designs and chunky watches to appreciate it, but I do like it quite a bit.
The circular steel case features two buttons on the side, and the lugs on both sides slope downwards, ensuring the sensors on the back stay on your wrist even when you've fastened the strap loosely. Speaking of, the fluoroelastomer straps are quite sturdy, and comfy too. They can be swapped out with any 20mm straps of your choosing if you'd like to customise the look. Rated IP68 and conforming to MIL-STD-810G military-grade standards, the device is extremely well built and durable too. However, due to its bulk and 52g weight, I did find it a tad too heavy to wear at night to log my sleep.
The 1.4-inch Super AMOLED display is excellent and offers the same signature screen experience I've come to expect from Samsung… so no qualms there. There's an ambient light sensor that adjusts screen brightness automatically, and you can also enable the always-on display feature if you want to be able to view the time without raising your wrist.
Features
As Samsung's flagship smartwatch, the Watch4 Classic is packed to the brim with features. As a smartwatch with a built-in speaker and mic, it allows you to make and receive calls. You can view notifications, and even reply to messages straight from the watch… using voice dictation or the tiny built-in T9 keyboard. You can install watch faces and even third-party apps (more on that in a bit) and have access to functions like alarms, timers, stopwatch, calculator, weather etc. On the health and fitness side of things, there are major upgrades. There's a new BioActive sensor on board that enables the Optical Heart Rate sensor, Electrical Heart, and Bioelectrical Impedance Analysis. All this wizardry allows the user to measure blood pressure, take ECG readings, blood oxygen levels and calculate their body composition. Unfortunately, blood pressure and ECG functions aren't available in India yet, and that's a bummer… especially since rival premium smartwatches like the Apple Watch and the Fitbit Sense do offer the super-useful and potentially life-saving ECG functionality. The body composition analysis function, however, is available… and the Galaxy Watch4 Classic is actually the first smartwatch to offer this (along with the Watch4).
Bioelectrical Impedance Analysis is a technology that uses weak electric currents to measure your body composition and is used by smart weighing scales. It's amazing how Samsung has been able to fit it into a tiny gadget like a smartwatch. The technology actually works best for smart scales, since it uses your weight as a baseline for measurement, but in the case of the Watch4 Classic, you need to enter your current weight each time before taking the reading. To measure, you need to place your ring finger and middle finger on the two buttons on the side of the watch, keep your hands away from your body, and let it do its thing.
The watch screen displays the readings after a few seconds, and these are also synced to the Samsung Health app. The readings include body fat percentage, body mass index (BMI), body water percentage, muscle mass, etc, which can be useful in terms of understanding your body. To make best use of this feature though, you need a weighing scale at home so you can input your current body weight.
Then, there are features like continuous heart rate monitoring, SpO2, stress measurement, and support for a whole bunch of sports modes, with Watch being able to detect the usual ones like walking, cycling, etc automatically. Suffice it to say that barring the aforementioned ECG and BP features, you won't find the Watch4 Classic lacking in any other aspect when it comes to health and fitness features.
User interface and app connectivity
Now, the Watch4 Classic comes loaded with Wear OS 3, but don't expect drastic changes in the UI or menu navigation. A downward swipe on the screen displays quick settings, a right swipe displays notifications, while a left swipe shows tiles. An upward swipe brings up all the installed apps, displayed as circular icons. The rotating bezel is useful as always, offering great haptic feedback and letting you scroll through the menus quickly. Thanks to Wear OS, you get access to the Google Play Store and its limited collection of watch-specific apps. The Play Store also lets you install third-party watch faces, and thankfully, there's a decent choice available. However, I miss the watch faces that were available on the Galaxy Store for use with Samsung's Tizen-based watches – the sheer variety available was mind-boggling, and some of them looked fantastic.
Coming back to the Watch4 Classic, you do get Google Maps support… which is always handy to have. On the flip side, there's no Google Assistant, with Bixby preloaded as the default smart assistant on the watch.
For controlling watch settings and syncing activity data, you'd need the Galaxy Wearable and Samsung Health apps loaded on your Android phone (there's no support for iOS, alas), and these do their jobs well too. Using Galaxy Wearable, you can set up app notifications, set various parameters related to the display, sound, vibration etc, and add music tracks and images to the watch's native storage. The Samsung Health app provides a comprehensive, detailed look at your physical activity data, both current and historical, and lets you log various activities like food and water intake, etc too, The app also has a social angle wherein you can add friends and challenge them to competitions.
Performance and battery life
The new 5nm Exynos W920 dual-core processor clocked at 1.18GHz makes usage a breeze, and along with 1.5 gigs of RAM, keeps things running smoothly. App loading times are fast and there's no instance of lag whatsoever. The Watch4 Classic also seems pretty accurate when it comes to capturing physical activity data like steps, sleeping patterns, heart rate and oxygen saturation levels. I compared these metrics to other wearables like Apple Watch, and double-checked my blood oxygen using a pulse oximeter, and didn't find any glaring discrepancies.
When it comes to battery life, the Galaxy Watch4 Classic should last you about a day and a half to two days, but you might need to juice it up sooner if your usage is heavy, and depending upon the functions you use. Charging it fully takes a little less than two hours using the bundled puck-shaped wireless charger.
Final Verdict
The pricing for the Galaxy Watch4 Classic starts at Rs 31,999 for the 44mm BT variant, going up to Rs 39,999 for the 46mm LTE model. Of course, this shouldn't raise too many eyebrows, given that this is Samsung's flagship smartwatch we're talking about here. I don't like the fact that the Watch4 Classic isn't compatible with iPhones, and the missing ECG features also stands out. From an Android user's perspective though, it's still the best smartwatch money can buy, and if you covet a do-it-all premium option, you can't go wrong with the Samsung Galaxy Watch4 Classic.
Editor's note: 4 / 5
Pros:
Nice looks
Packed with health-related features
Smooth usage
Access to Google services
Cons:
Heavy
No Google Assistant support
No iOS support
App Ecosystem still weak