Sony SRS-NB10 Wireless Neckband Speaker review: WFH calling made more palatable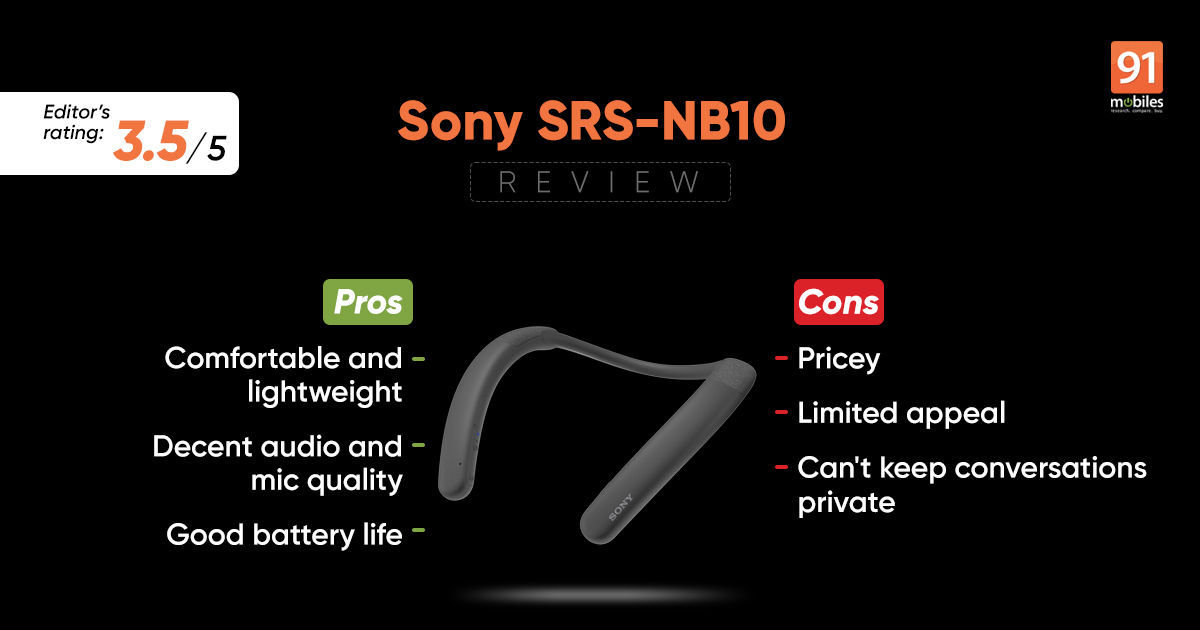 We're living in an era where Zoom fatigue is a thing. Raise your hands if, like me, you spend hours dealing with calls on the phone, Zoom, Google Meets, Microsoft Teams, WhatsApp and WhatNot (pun intended) on a daily basis. Enter Sony with the SRS-NB10 Wireless Neckband Speaker, a device designed specifically to cater to work from home requirements. Let me wrap my head around this interesting piece of gadgetry (or wrap it around my neck, to be more precise) to figure out what it can do.
The SRS-NB10 Wireless Neckband Speaker is exactly what its name suggests – it's wireless, is designed like a neckband, and has a pair of speakers. It resembles your usual pair of neckband earphones, except that it's much thicker and doesn't have the pair of buds hanging out on wires. The grey neckband is flexible, and has speakers covered by a fabric mesh on each side, positioned such that they rest on your shoulders and face upwards towards your ears when you're wearing the band. On the ends, you'll find rubber-covered controls. There are volume buttons and a multi-functional key on the left, while the right side has a toggle to turn the mics on or off, a power cum pairing button, and a Type-C port hidden under a flap. The device features two bed-forming microphones as well. Tipping the scales at just 113g, the device is quite lightweight, and can be worn the entire day without weighing down your neck or shoulders.
Utilising Bluetooth 5.1, the device supports SBC and AAC codecs, and also features multi-point tech allowing it to be paired with two audio sources at once, and you can switch between them anytime with a press of the multi-function key. The neckband speaker is IPX4 rated too, and can survive small spills and splashes.
The main use case of the SRS-NB10 is handling calls, and it does that quite well. Those who spend hours on calls would be familiar with the discomfort caused by wearing earphones and headphones for long periods, and that's exactly the pain point the NB10 wishes to address. While the SRS-NB10 doesn't get extremely loud, it does output crisp audio directed at the wearer's ears, and thanks to the dual mics, the speech is relayed to the other end well too. The physical keys on the band are quite easy and intuitive to use, and once you know where they are and what they do, you can find and operate them by feel alone. The mic mute toggle is handy, and I find it especially convenient to have at my disposable since I generally tend to pace around in front of my laptop in the midst of calls, instead of sitting down for long durations. On the other hand, sound leakage is an issue, and the SRS-NB10 doesn't allow for private conversations. The audio quality might be ideal for the wearer due to the speakers being top-firing, but someone sitting alongside or even being in the same room can listen in on to the conversation.
As per Sony, the SRS-NB10 should work well for listening to music as well, but that's another aspect that does leave one wanting for more. I think the music use case is best served using earphones or headphones… while the SRS-NB10 is definitely more convenient and comfortable, there's really no bass, and the audio sounds flat. That said, the NB10 neckband speaker can definitely suffice for a bit of casual music listening, and can actually do the job reasonably well for tuning into podcasts. The battery is rated for up to 20 hours, and I'd say the device should be able to last that long. Fast charging is supported, and 10 minutes of juicing uo via USB-C give you about an hour's worth of usage.
Verdict
For its asking price of Rs 11,990, the Sony SRS-NB10 doesn't really come cheap… and that's part of the problem. You see, while it's a device that's quite interesting and unique, and doesn't have any direct rival as far as I know, it still has to compete with headphones and earphones. These come in a variety of designs and form factors, are available across different price points, and work better not just for music and streaming, but also keep conversations private. What's more, the SRS-NB10 even has to compete with something that everyone has by default – the speakers and microphones already built into their laptops, phones and tablets. From that perspective, I think the SRS-NB10 might not appeal to everyone, especially when pricing is brought into the picture. That said, whether the WFH situation continues or not, long work calls are here to stay… and if a big chunk of your day goes in calls, the Sony SRS-NB10 could be a worthwhile investment.
Editor's rating: 3.5 / 5
Pros:
Comfortable and lightweight
Decent audio and mic quality
Good battery life
Cons:
Pricey
Limited appeal
Can't keep conversations private