Uncharted: Legacy Of Thieves Review – A PS5 Essential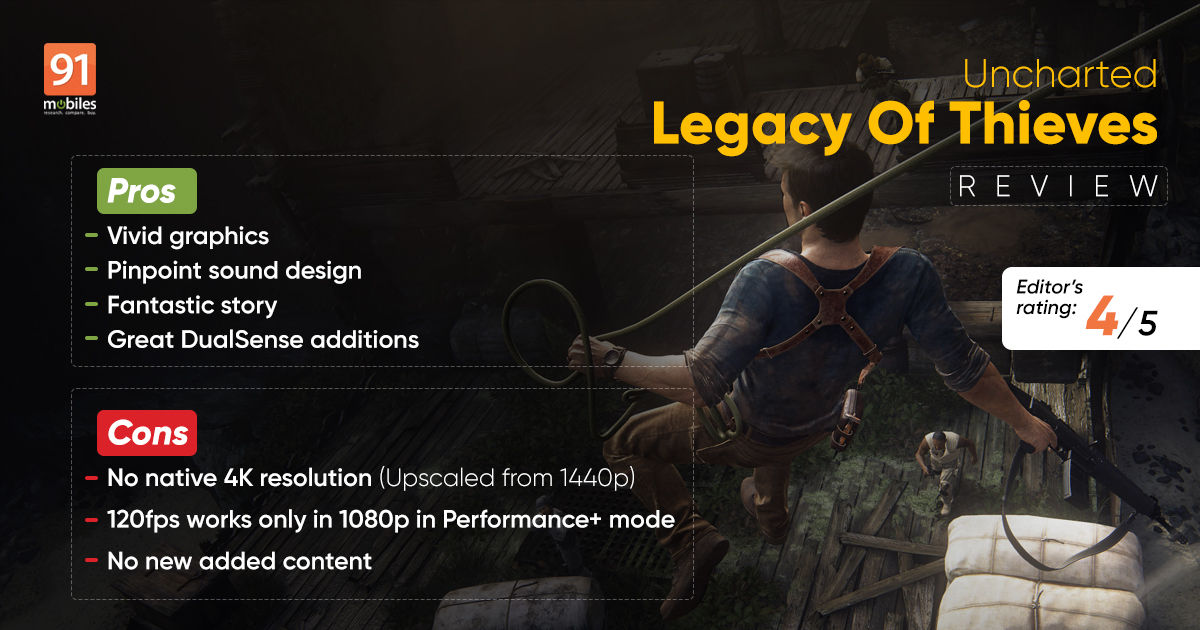 The Uncharted: Legacy of Thieves is the latest remastered game to hit the PlayStation 5 for players who want to explore the world of Sony's treasure hunters once again. This collection is packed with two Naughty Dog classics, fine-tuned and upgraded for PS5 owners. Uncharted 4: A Thief's End and Uncharted: Lost Legacy set a benchmark for cinematic storytelling in video games almost six years ago, and Naughty Dog wanted to update the two games according to today's standards and gives the two games a new life in 2022.
It's worth pointing out that the PS4 versions of both games still look marvellous even today. While many players would find Uncharted: Legacy of Thieves an unnecessary release for the PlayStation 5, it's still worth giving it a shot because of some significant and subtle improvements. To put it more plainly, I never knew that I needed an Uncharted Remaster until I played Legacy of Thieves.
Table of Contents
Uncharted: Legacy of Thieves – Story
If it wasn't apparent already, the Legacy of Thieves Collection's title is a direct amalgamation of the two games offered in the bundle. Again, if you haven't played the two games already, the story of both games is set in the same universe, where the former follows the story of the main protagonist Nathan Drake while the latter focuses on Chloe Frazer and Nadine Ross. For players who haven't played these games before, here's a brief description.
Uncharted 4: A Thief's End is the final chapter of Nathan Drake's life as a treasure hunter. However, unlike other titles in the series, A Thief's End puts Drake's personal life into focus as he looks to settle down and walk away from his marauding days. However, just when you think Drake is done with hunting treasures, his brother shows up, requesting him to find one last treasure for him.
Uncharted 4 packs everything you love about the series; however, Naughty Dog managed to tell a story with some emotional weight this time around. You will often explore mysterious environments and experience over-the-top sequences/set-pieces akin to the franchise. You will also be engrossed with a riveting story that chronicles Nathan Drake's final adventure and his resolve to help his brother.
On the other hand, Uncharted: The Lost Legacy was initially supposed to be a bonus DLC (downloadable content) chapter for Uncharted 4 but, in reality, is a sequel. While this game does not feature Nathan Drake as the protagonist, it does make plenty of references that remind players they are still playing an Uncharted game.
Having said that, Chloe Frazer's character fits the role perfectly, thanks to her playful yet untrusting demeanour. In most ways, she's the perfect female replacement for Nathan Drake, and I would have liked to experience more of her adventures if Naughty Dog ever decides to expand her narrative in the future.
Chloe partners with Nadine Ross (who also makes an appearance in Uncharted 4) and is looking for the Golden Tusk of Ganesha. Yes, Lost Legacy is set in India's Western Ghats, where Chloe's adventure takes you exploring the ruins of the Hoysala Empire. Your main objective is to acquire the Golden Tusk of Ganesha before it gets in the hands of an insurgent rebel leader. Not surprisingly enough, Lost Legacy's narrative uses the same formula as Uncharted 4, but it has its fair share of twists and action-packed sequences that make this game worth experiencing for both newcomers and returning players alike.
However, I do have a minor issue with the content though, as neither game added any new content for returning players. Unlike Ghost of Tsushima Director's Cut, Naughty Dog did not include any new story content with this release which could have been a great motivation for returning players to purchase the collection again.
Uncharted: Legacy of Thieves – Gameplay
Uncharted: Legacy of Thieves Collection employs nearly identical gameplay mechanics as the originals without any significant changes in the remaster. That isn't to say that the gameplay isn't enjoyable; it's fun to play these games even more now, thanks to better performance and visuals on the PlayStation 5. Throughout the two games, you will be using stealth, hand-to-hand combat, and other mechanics to explore the mysterious and stunning ruins of abandoned caves, temples and tombs. Both Uncharted titles already featured free-flowing gameplay on the PlayStation 4; however, Legacy of Thieves feels more fluid and exciting to play with the latest performance upgrades.
Having said that, my favourite thing to do in both games is to solve various puzzles that are somewhat tied to the main story progression. These puzzles can be clever and challenging as they prompt players to look for clues or pay attention to their surroundings for solutions. Solving puzzles in Uncharted games gives players a breather from all the explosions and encourages players to be mindful of the lore, story, and their surroundings.
Uncharted: Legacy of Thieves – Performance and Other Features
Since the Legacy of Thieves Collection is a remaster for the PlayStation 5, the game is expected to run better than the originals, and Naughty Dog delivered on this front. Both games take advantage of the new hardware in delivering higher frames, better lighting, near-instant loading times and new DualSense features. To get a bit more specific, both games can run in fidelity, performance or performance+ mode where each focus on a different type of experience. You can enjoy the game with slightly more detailed textures and lighting in fidelity mode, making both games look more cinematic than the PS4 versions.
The game is the most fun to play in performance and performance+ mode, where you get to enjoy higher frames per second without sacrificing the graphics. The Legacy of Thieves Collection can run at 4K resolution and 60FPS in Performance Mode; however, it's worth pointing out that the picture is upscaled from 1440p base resolution. Therefore, to make use of the game's full potential, you can run the game in Performance+ mode as it pushes the performance of both games to 120FPS at 1080p resolution. There isn't really a correct mode to choose here as it all depends on the player and the kind of experience they want.
If you prefer higher-quality graphics, in fidelity mode the frame rate will be capped at 30FPS and run in either 1080p or 4K resolution depending on the TV/Monitor you are using. For the best possible experience, it is recommended to use a display unit with an HDMI 2.1 port and 120Hz refresh rate. However, I do have to point out that it's a shame that PlayStation still has not rolled out VRR (variable refresh rate) support for the PlayStation 5 as it prevents players from enjoying the game at 120 FPS on 1440p resolution.
The Legacy of Thieves Collection also leverages most of the new DualSense features in almost every gameplay mechanic. For example, you will be able to feel the haptic feedback on the controller when you are traversing different types of environments. When climbing rocks and parkour actions, you will feel every tiny vibration as you grab crevices in walls or slide on boggy ground. It is fair to say that the haptic feedback implementation by Naughty Dog feels very nuanced and precise. The adaptive triggers have also gotten a great deal of attention as players will be able to feel the tension and shake when firing weapons.
Finally, to complement the cinematic visuals of The Legacy of Thieves Collection, the game also employs some of the most impressive sound designs yet. There is a noticeable difference in sound quality thanks to 3D audio on the PlayStation 5 as each explosion, gunfire, and dialogue sound like audio magic thanks to Sony's object-based system, Tempest 3D AudioTech. Sony uses this system to place virtual objects in 3D space where it feels like you hear sounds as if they were happening around your head. In Uncharted 4 specifically, you will be able to hear individual raindrops in some chapters, especially if you are using a quality headset or home theatre.
Verdict
Uncharted: The Legacy of Thieves Collection may not be a new game for the PlayStation 5, but it does offer a new experience for both existing and newcomers. Naughty Dog has delivered a remaster that leverages PS5's hardware to deliver an all-around cinematic experience. However, playing both games at 120 FPS or even at 60 FPS makes the gameplay far more fun and free-flowing than the PS4 versions. Moreover, for a price of Rs 2,999, or an upgrade for Rs 500 if you already owned the game on PlayStation 4, you will be able to experience two award-winning PlayStation exclusives on the PlayStation 5 or on PC, the way it was always intended to be.
Editor's rating: 4 / 5
Pros:
Vivid Graphics
Pinpoint Sound Design
Fantastic Story
Great DualSense Additions
Cons:
No Native 4K Resolution (Upscaled from 1440p) [Performance Mode]
120FPS Works Only in 1080p Resolution in Performance+ Mode
No New Added Content