Fitbit Sense review: gives you sixth sense on your fitness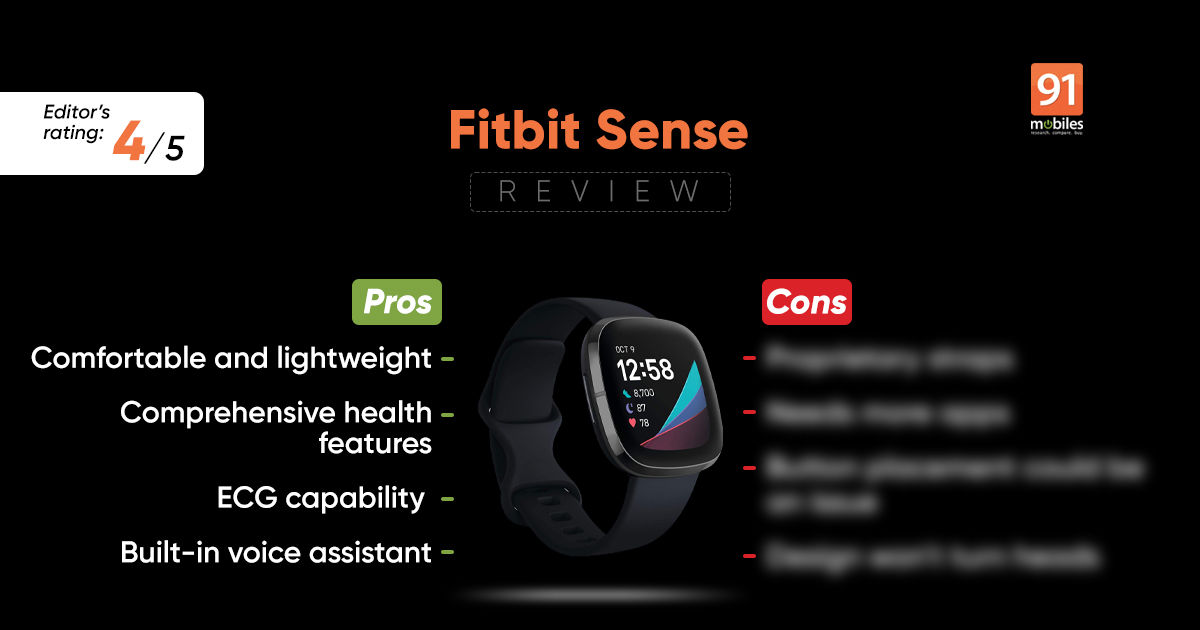 Fitbit is a name synonymous with fitness trackers, so when I tell you that the Sense is one of its most advanced smartwatches, there can hardly be any doubts regarding its health monitoring capabilities. Sense is a simple, thoughtful, yet powerful name for a device like this, but the smartwatch falls in the premium league, and with other compelling options around, does it make sense to buy one? Let's take a closer look and find out.
Let's just say that the Fitbit Sense won't draw too many second glances. That's perhaps by design, but the low-profile, lightweight chassis bodes well for active folks. The Sense actually borrows its design from Fitbit's Versa 3, and features a 1.58-inch, square-shaped AMOLED display. The corners are rounded, and a metallic frame runs all around the screen.
The case tapers down from all four sides to the sensor area at the bottom, and there's a touch-enabled 'button' on the left. The latter is basically a touch-enabled area marked with a groove, and provides haptic feedback on being pressed. It acts as a back key, but is slightly difficult to access since it's on the side which curves downwards and inwards, closer to the wrist. I actually end up pulling a few hairs off my wrist while pressing it each time, though your own mileage could vary.
On closer inspection, you'd also see a small speaker towards the right of the watch. The strap is soft and comfortable enough to wear for long periods, and Fitbit includes both medium and large sizes in the pack so you can choose one that fits better. Do note that unlike most other smartwatches, Fitbit still insists on using a proprietary fastening system for the straps. Third-party straps for the Fitbit Sense are available online, though the variety and choice available is nowhere near the options available for wearables that use standard 20mm or 22mm straps with quick-release pins.
The display is pretty vibrant though, displaying good colours and staying legible even under bright sunlight. It even has an always-on mode, so you can see the time without raising your wrist.
The Sense is packed to the brim with features, and as can be expected from a Fitbit, focusses heavily on fitness and health. That's not to say it misses out on much as far as smartwatch features are concerned. For one, it can be used to answer calls when paired with a smartphone, thanks to the built-in speaker and mic. This works reasonably well too, though you need a quiet environment to be able to hear the caller at the other end. You even get voice assistant support, and can choose between Alexa or Google Assistant as you deem fit. I tried out Alexa, and it works reasonably well – even letting you use your voice to control compatible smart home devices, apart from the other usual stuff.
The watch mirrors notifications from your phone too, and while you can't interact with them if you've paired with an iPhone, you can reply using preset messages if you're using an Android smartphone. Oh, it's worth mentioning at this time that the Fitbit Sense can work with both Android and iOS smartphones, so it's not tied to a specific ecosystem unlike say, the Apple Watch or the Samsung Galaxy Watch4. The Fitbit Sense also supports third-party apps, though frankly, the choice is very limited.
Thankfully, there's a reasonably wide variety of watch faces available, with many of them free. You can store up to five on the device itself and switch among them directly from the watch.
From a fitness and health standpoint, the Sense has a lot to offer. Apart from the usual features like step tracking, sleep monitoring, and heart rate functions that are offered by most other fitness wearables, the Sense stands out by offering a more holistic approach to health and well-being. For example, there's an EDA scan feature that measures electrodermal activity to get a sense (pun unintended) of your stress levels.
One of the most standout features, as far as I'm concerned, is ECG. Of course, it's a feature that the Apple Watch is known for, but to my knowledge, there's no smartwatch for Android users that offers this. There's the Samsung Galaxy Watch4 and Watch4 Classic that do have this feature listed in their repertoire, but unfortunately, it's not available for use in India yet. ECG I think, can be a very useful, and potentially life-saving feature. To measure ECG using the Sense, all you need to do is tap on the heart icon in its menu and then hold your index finger and thumb on the top right and bottom left corners of the Sense's metal frame respectively. Stay still for 30 seconds, and your ECG readings are done.
The Sense also features SpO2, but unlike most other wearables, the Sense can't give you your blood saturation levels on demand. The device tracks SpO2 levels as you sleep, and displays the data in the app. It even logs your skin temperature at night, and once you start wearing it to bed regularly, the app will start showing you trends of how your skin temperature fluctuates over time. There are female health monitoring features as well, built-in GPS to track outdoor walks and runs, support for a wide variety of different sports activities, and water resistance for up to 50m. The Sense can even auto-detect a few common exercises. Some advanced features are available to those who've subscribed to Fitbit Premium. Thankfully, six months' worth of Premium is bundled with the Sense.
The Fitbit app experience is great, and over a period of time, allows you to track your health metrics, sleep details and physical activity quite extensively. There are social features built into the app as well, so you can add other Fitbit users as friends and participate in challenges. It's a comprehensive suite of features, and should be quite useful for those serious about their health and fitness. As you can expect, the Sense is quite accurate in its readings too.
As far as battery life is concerned, Fitbit says you should be good for 6 days before you need to charge, though based on my usage, I'd say you can expect about 3-4 days, though this can vary drastically depending on settings, whether you have the always-on display enabled and how often you use the workout modes. Charging is quick, and thanks to the magnetic connector that latches on to the base, quite convenient too.
Verdict
For its asking price of Rs 22,999, the Fitbit Sense clearly has a lot to offer. In terms of competition, it might be hard to pull away iPhone users from the Apple Watch, while Android users looking for a premium smartwatch experience might get lured by the likes of the Samsung Galaxy Watch4 Classic. The Fitbit Sense however, should make a lot of sense to those who're looking for deep, meaningful insights into their physical activity, heart rate, sleep, and other metrics, and that ECG feature is pretty much unmatched on the Android side too.
Editor's rating: 4 / 5
Pros:
Comfortable and lightweight
Comprehensive health features
ECG capability
Built-in voice assistant
Cons:
Proprietary straps
Needs more apps
Button placement could be an issue
Design won't turn heads