Google Pixel Buds A presented: high-quality audio for just $99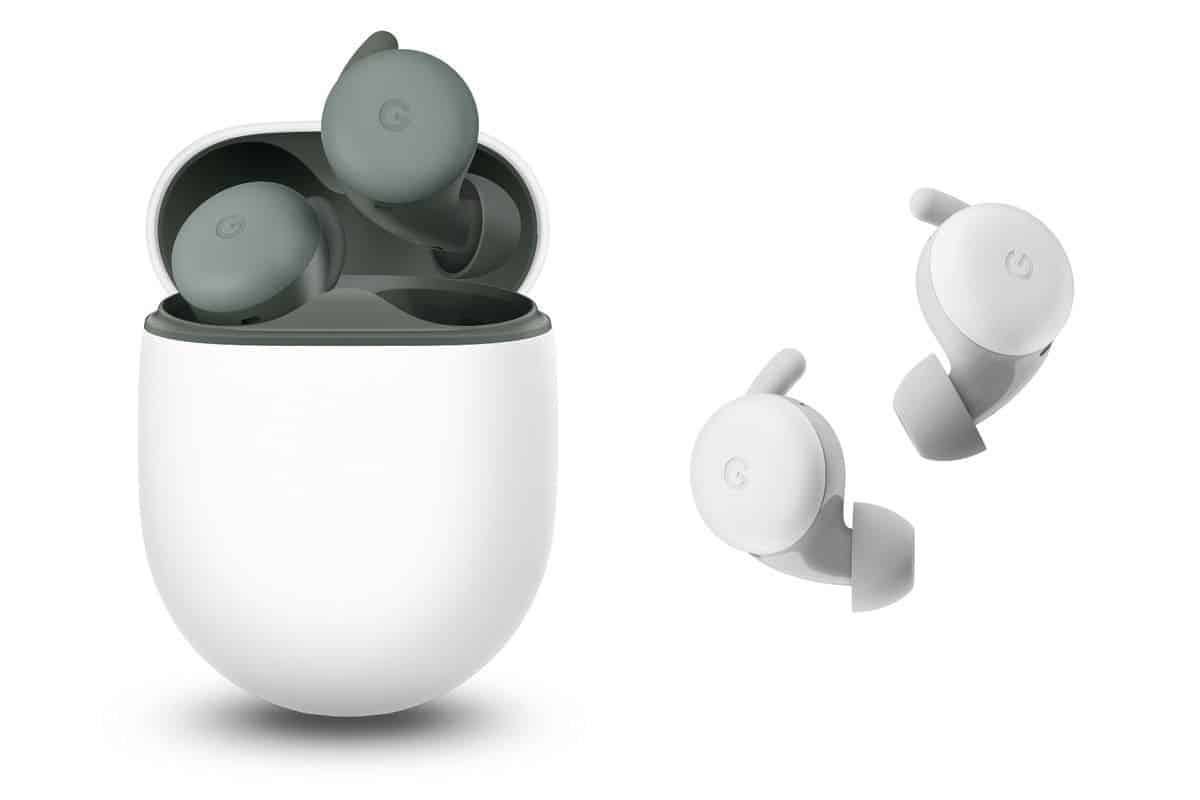 After months of rumors, Google has officially unveiled the Pixel Buds A. They are basically the same as the original Pixel Buds in terms of design and features. But still, there are a number of differences and the most important thing is the price – they cost only $ 99.
The Pixel Buds A share the same design as the 2020 Pixel Buds. Except for the new olive green version and the two-tone white version with a gray tint instead of black. Minor differences are in the shape of the microphone holes, and the A-Series has two charging contact points instead of three.
The earbuds still have a "stabilizing bar" in the back to help keep them in place. The vents have returned to help maintain comfort while relieving pressure from the ear. Finally, the Pixel Buds A are IPX4 rated.
Inside the headphones are 12-millimeter drivers, they implemented passive noise reduction and the autonomy of work is 5 hours on a single charge in music playback mode and 2.5 hours for voice calls. The complete case allows you to increase the operating time up to 24 hours (12 hours of calls).
You can charge the case by wire through the USB Type-C port, but they do not support wireless charging in order to reduce the cost. Support for Bluetooth 5.0 and Google Assistant is declared, as well as headphones are able to stop playback, as soon as they are removed from the ears.
Google Pixel 6 latest news
Google is expected to launch two flagship smartphones this year: Pixel 6 and Pixel 6 XL. Not so long ago, we shared high-quality renders of the upcoming devices. Now there is new information about the Whitechapel chip, which will form the basis of smartphones. This chip is being developed by Google in partnership with Samsung and, according to recent data, may disappoint users hoping to get high performance.
Well-known insider Max Winebach claims that Whitechapel will not be able to impress with benchmark results; but will get advanced capabilities for working with artificial intelligence tasks. The new chipset will include a powerful neural processor and an advanced imaging chip. Probably, thanks to this approach, Google plans to significantly improve the photo and video capabilities of the upcoming flagships. It is worth noting that in the Pixel 3 and Pixel 4, the company used an additional Pixel Neural Core chip; which was abandoned in last year's Pixel 5. Max Weinbach suggests that the Whitechapel chip will be located between Snapdragon 865 and Snapdragon 888 in terms of performance.
The base Pixel 6 is expected to boast a 6.4-inch Full HD + screen, dual rear cameras and ultra-wideband support. As for the Pixel 6 XL (or Pro), it is credited with a 6.67-inch AMOLED panel; with a 120Hz refresh rate and a triple camera with a main 50MP sensor.