Mi Watch Revolve Active review: the complete package. Almost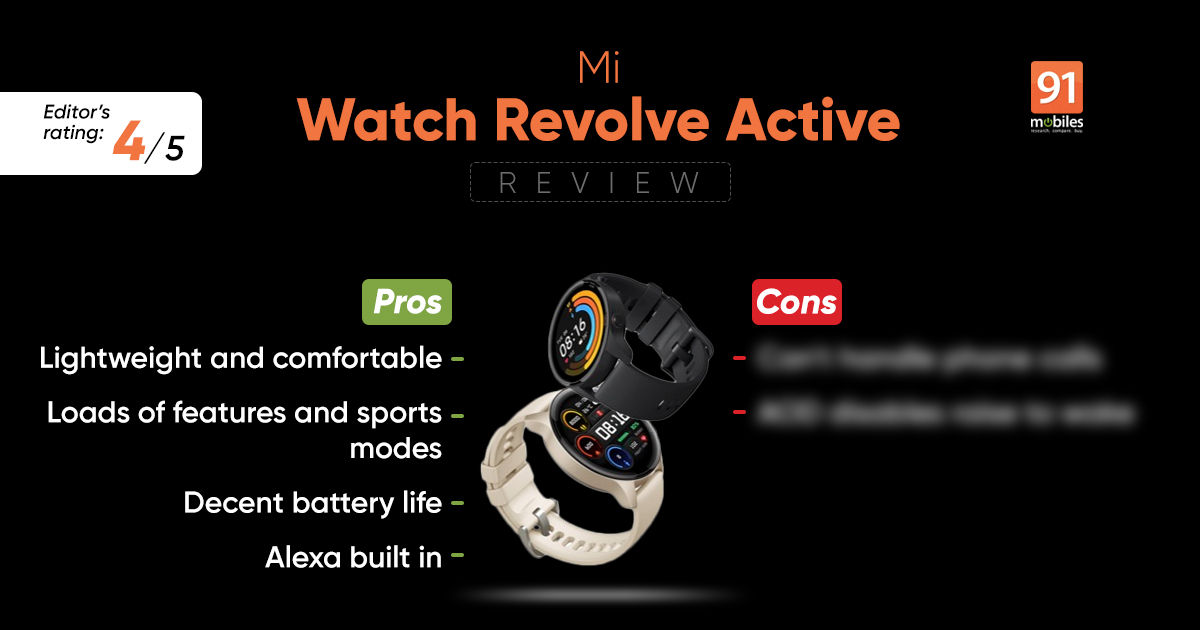 It's probably the best time to be in the market for a new fitness watch, considering there's a healthy (pun unintended) choice available to suit various budgets. The latest to enter the fray is the Mi Watch Revolve Active from Xiaomi, which comes a few months after the brand launched its very first smartwatch in the form of the Mi Watch Revolve (review). Now the Revolve was a decent attempt but did have a few shortcomings. And as far as I'm concerned, many of those have been sorted out with the newer iteration, making the Revolve Active a more well-rounded package. Allow me to elaborate.
One of my main niggles with Xiaomi's first watch was that it lacked SpO2 monitoring, and that's something that has now been added to the newer model. On top of that, Xiaomi has gone ahead and integrated Alexa as well, apart from adding a whole bunch of sports modes. There's more to it though. Here's what works, and what doesn't.
Table of Contents
Specs and features
1.39-inch, 454 x 454 AMOLED display, 450 nits
Alway-on display
Weighs 32g
GPS, GLONASS, Galileo, BDS
5 ATM water resistance
420mAh battery
Sensors: SpO2, PPG heart rate, 3-axis acceleration, geomagnetic, barometer, gyroscope, ambient light
Works with Android and iOS via Xiaomi Wear / Xiaomi Wear Lite app
Support for 117 sports modes
Automatic workout detection
What's good
The Mi Watch Revolve Active looks a tad different as compared to the Revolve, and Xiaomi has done well to differentiate the two in terms of looks. While the previous model came in stainless steel and midnight black versions, the new one features a sportier look, with a matte-finished case that's colour matched with the straps – available in beige, black and blue. The one that I have with me is the beige one, a shade that stands out on the wrist, and yet, looks elegant and classy. The device is lightweight, and comfy too.
The screen is the same circular AMOLED display as seen on the previous model. It's quite a capable display too, with vivid colours and good legibility even under sunlight.
Just like the previous model, the Revolve Active also has standard lugs, so you can remove the straps using the quick-release pins yourself and replace them with a band of your choosing anytime.
The two buttons on the side are the same as before too, except this time, they're clearly labelled as 'Home' and 'Sport'. Navigation is intuitive and fluid, without any stutter or lag. Swipe down for notifications, up for quick settings, and sideways to view heart rate, energy, sleep, weather, stress, SpO2, and activity summary. The top button on the side displays the app icons, which cover functions like workouts (also accessible directly via the lower hardware button), breathing exercises, compass, air pressure, alarms, stopwatch etc.
Alexa gets its own icon in the app list, but is also accessible via the quick settings panel, or by long-pressing the top button.
Alexa integration is one of the key highlights this time. As part of the one-time account linking process, you'd need to provide your Amazon credentials via the Xiaomi Wear app. Once linked, you can invoke Alexa on the watch by using one of the aforementioned methods. The integration is basic for now and allows you to set alarms, get weather updates, control compatible smart home devices, and perform web-based searches, and the like, just by using your voice. The mic is hidden below the watch, close to the lugs on the top of the watch casing, is fairly sensitive too.
The Xiaomi Wear app is easy to understand and syncs your physical data quickly. It provides a handy summary of your activity, workouts, and sleep, and allows you to control watch settings too.
The choice of watch faces is pretty good, and you can download the ones you like and install them on the watch. The range of watch face options isn't overwhelmingly amazing, but it does whet my appetite for switching and trying out new ones multiple times a day.
The activity data seems quite accurate, and I'm glad to report that the SpO2 sensor works pretty well too. I verified the figures using a pulse oximeter, and the readings turned out quite accurate. The same is true for other data like heart rate and sleep. The watch features automatic workout detection as well for certain activities and also boasts a 12nm Airoha GPS chip that supports four positioning systems for route tracking. I did find it to be quick and accurate as well.
The list of sports modes supported is quite extensive and includes everything from yoga to different types of dance-based workouts. The Sport button on the watch s set to launch the main workouts screen by default, but you can change it to display your favourite workout directly if you so wish.
The 420mAh battery is rated for up to 14 days of typical use off a single charge. In my case, the battery is at 18 percent after a week of light usage, so I'd expect it to last about 9-10 days, and this is with the Always-on display set to off, and continuous heart rate monitoring switched on. Depending upon your settings and how often you use the workouts modes and GPS tracking, this could vary drastically.
What's not so good
During my testing, I noticed a couple of random reboots, though I'd attribute it to the early build of the firmware on the review unit for now. Hopefully, this won't be an issue with the retail units.
The Alexa integration, while useful, seems a tad basic for now. For example, as of now, one can't use Alexa's 'announce' feature that allows broadcasting voice messages to Alexa-powered smart speakers in the house. More functionality is expected via future updates.
The device already has a mic for its Alexa functionality, so it seems strange Xiaomi hasn't included a small speaker as well. That would've let the watch act as a Bluetooth headset for the paired phone, letting you make and receive calls directly from the device itself. As of now, the watch only lets you reject or silence incoming calls.
While the Watch Revolve Active supports the always-on display feature, I think the implementations could have been better. You see, enabling the always-on display disables the raise to wake feature, and that does seem limiting to some extent, since one needs to press the home button to wake the watch and access its main functions.
Verdict
In the months after the launch of Xiaomi's first smartwatch, the competition in this segment has increased quite a bit, and as such, the new Mi Watch Revolve Active now has to contend with new rivals like the OnePlus Watch (review), Amazfit T-Rex Pro (review), and others. However, the Watch Active Revolve's launch price of Rs 9,999, combined with the early bird offers and the HDFC offer that brings the effective price down to Rs 8,249, makes this watch a very enticing option. It might come down to personal preferences, especially as far as design is concerned, but the Mi Watch Revolve Active does mark a significant upgrade to Xiaomi's first smartwatch. And thanks to integration of features like SpO2 and Alexa, and addition of more sports modes, the device comes across as a complete package. Its health and fitness features are quite extensive, and for its asking price, the Mi Watch Revolve Active seems worth considering for anyone looking for a capable, feature-rich, and good-looking fitness watch.
Editor's rating: 4 / 5
Pros
Lightweight and comfortable
Loads of features and sports modes
Decent battery life
Alexa integration
Cons
Could do with a speaker to let you handle phone calls
AOD disables raise to wake
Alexa functionality is basic for now
[Close]Recent Tabs ExtensionEdit Post ‹ 91mobiles.com — Wo …OnePlus Watch review with pros …Smart Slider ‹ 91mobiles.com — …Upload New Media ‹ 91mobiles.c …Inbox (121,245) – deepak.dhing …Inbox (29,308) – deepak@91mobi …Order online | Grocery, fruits …Untitled design – 1200 × 630pxMi Watch Revolve Active – Goog …Tips & Tricks for 91TT Insta – …Try my other cool apps!