Motorola MH7020 Mesh Wi-Fi system overview: promises better coverage, security, and control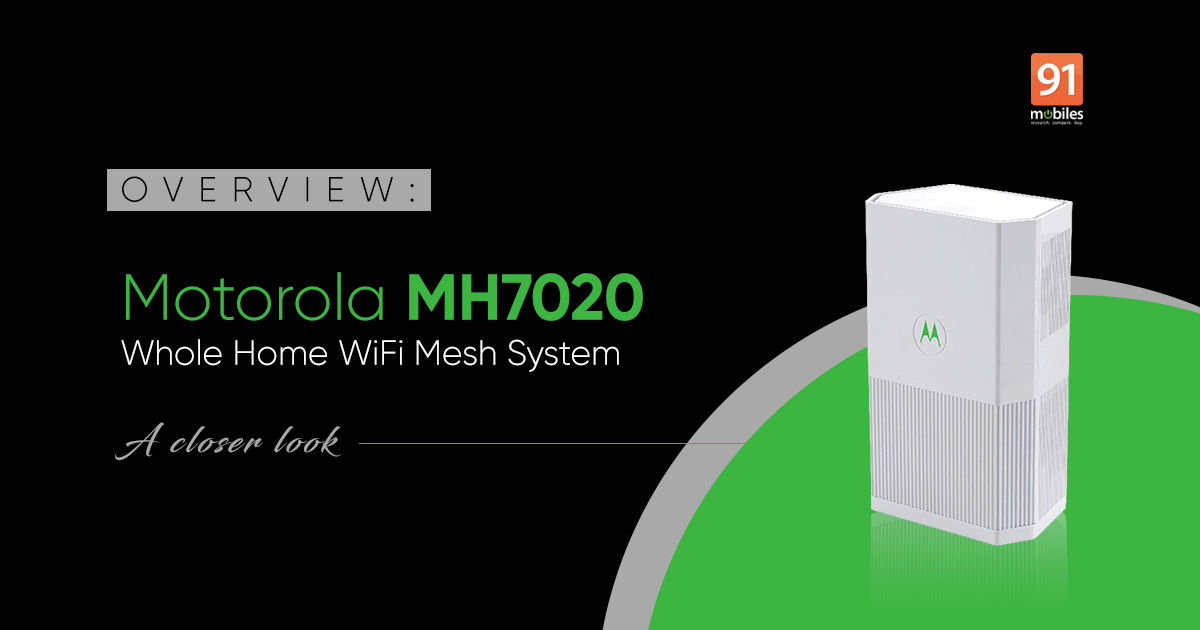 You're free to judge me, but I'm the kind of person who gets goosebumps at the mention of mesh Wi-Fi. I'm a big proponent of this tech, and a long-time user myself. So when the good guys at Motorola told me they're introducing their own mesh Wi-Fi system in the country, I jumped at the chance to try it out.
Mesh Wi-Fi, in layman terms, uses a main router and at least one satellite router to create a wireless network that resembles and mesh, letting you cover a bigger area than conventional routers. Moreover, the system is modular, so you can add more satellites for even better coverage. Apart from a bigger coverage area, mesh Wi-Fi routers offers other benefits as well, such as sustained high data speeds, single SSID spread over both 2.4GHz and 5GHz frequencies and across the router and satellites, letting you roam seamlessly with your devices within the house without affecting connectivity.
The Motorola MH7020 Whole Home Wi-Fi System, launched in partnership with Minim, offers all of the above. However, thanks to the free Moto Sync app, it offers quite a few additional features that help you manage your wireless network. Before I give you a glimpse of those, a look at the core specs. The AC2200 triband system features two internal dual-band antennas and two dedicated backhaul antennas. It conforms to IEEE 802.11 a/b/g/n/ac Wave 2 standards, and promises up to 400Mbps at 2.4GHz and up to 866Mbps at 5GHz. While MH7020 just includes the main router and claims to cover a 2,000 sqft area, model MH7022 adds a satellite, covering an area up to 3,500 sqft. Similarly, MH7023 includes a router and two satellites, promising coverage of up to 5,000 sqft. I was sent the MH7020 that doesn't include a satellite, so while I couldn't try out the mesh capabilities, I did try out the standalone router and the features of the Moto Sync app.
Setting up the router is quite simple, and the app handholds you through setting up a Wi-Fi network, along with SSID name and a password that client devices can use for access. Once set up, the Moto Sync app connects to your MH7020 router via the cloud, so you can manage your network from anywhere. The app shows if your router is online and the list of devices connected to it. You can even run a speed test, and create additional networks (for example, a separate guest network for use by visitors). You can also see the data used by each device on the network. There's a built-in security centre that detects potential threats on the network, and alerts you when unidentified devices connect.
One of the most useful features of the Moto Sync app is the ability to set up different user profiles, each with its own set of devices. Once you've set up different profiles, you can view network activity and data use on a profile level. You can even set schedules and set filters on a device and profile level, a feature that should be extremely useful for parents who want to control internet access for kids in the home. So if you have a separate profile set up for kids (as an example), you could set up filters, daily time limits, and schedules for different days of the week, thereby controlling the time and the content they can view on the web. A truly useful feature in this day and age if you ask me, especially since most kids aren't going to school and spend a lot of time online.
The MH7020 Mesh-ready router is priced at Rs 7,999, the 2-pack MH7022 will set you back by Rs 13,999, while the 3-pack MH7023 costs Rs 19,999. For what it brings to the table, Motorola's new mesh Wi-Fi system definitely deserves a closer look, especially if you're looking to replace your existing router to improve network coverage and home, and / or want better control over how devices use home broadband.