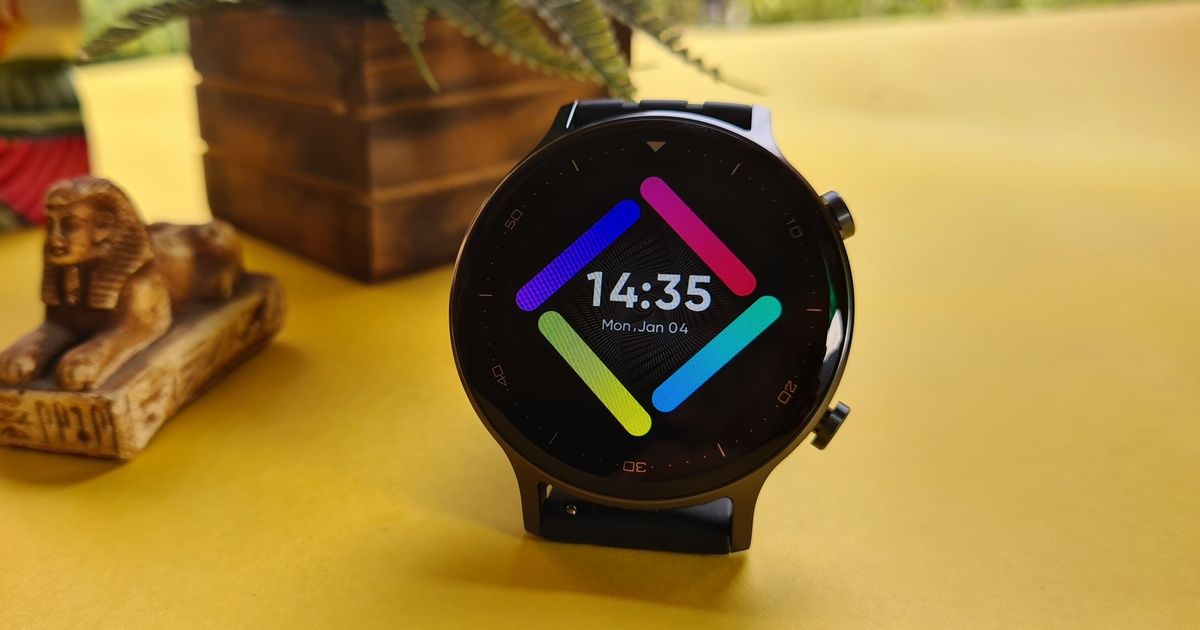 The market for smartwatches and fitness bands has been booming, especially over the past couple of years. That being said, while the premium segment is limited to a handful of products including the Apple Watch and Samsung's offerings, most manufacturers are competing in the affordable segment, the likes of which include Realme, Xiaomi, Amazfit, etc. Now Realme's first attempt with the Realme Watch did seem a bit hurried since the device was a bit rough around the edges. But with the new Watch S, Realme has addressed many of these problems and put a Rs 4,999 price tag on the device. There are very few choices available in the sub-Rs 5,000 bracket and the Realme Watch S could be a worthwhile option for users dipping their toes in the smartwatch market. Here is my full review of the Realme Watch S.
Table of Contents
The lowdown
Unlike its predecessor, Realme has adopted a circular design for the newer Watch S. Furthermore, the watch now ships with two buttons instead of relying solely on one physical button. Do note that these buttons can only be pushed and not turned. Also, there is no Realme branding on the device and the circular bezel around the display features markers inscribed at their respective positions.
On to the comfort side of things, the watch (with the straps) is relatively light at 48g, which can be attributed to its plastic bottom. However, after prolonged use, I could definitely feel slight discomfort when I moved my hand. Apart from that, the Watch S retains the IP68 water resistance which should protect the device in 1.5 meters of water for about 30 minutes. For protection, the display is covered with Corning Gorilla Glass 3 that should prevent scratches to some degree. All-in-all, the wearable's matte-black finish, along with its sturdy 22mm straps, smooth aluminum frame, and overall trendy design work in favour of the Watch S' aesthetics.
Coming to the display, the Realme Watch S ships with a 1.3-inch LCD panel with a resolution of 360 x 360 pixels. The touchscreen LCD panel is big enough for easy viewing of notifications and in general, to navigate through the interface. Coming from an AMOLED display on my OPPO Watch (review), the dullness and lack of colours on Watch S' panel were apparent. However, given its price range, the viewing experience on the Watch S is quite good and leaps ahead of its predecessor, the Realme Watch. The peak brightness has seen a noticeable improvement from last time around and the auto-brightness sensor works more swiftly too.
Much like most other fitness wearables, you will need to connect the Watch S to the Realme Link app to access relevant data and tweak settings. Do note that the app is available for both, Android as well as iOS. The pairing process is pretty straightforward and the app's UI is quite user-friendly too. You get to see the number of steps being displayed at the top along with your sleep tracking details, heart rate, blood oxygen levels, and exercise logs. There is also a further detailed breakdown of all exercises like the heart rate at different points, total calories burnt, the path you took tracked by your phone, and more. Going deeper into the settings, you will be able to see a whole variety of customisation options, including choosing from a ton of different watch faces, toggling call reminders on or off, set up apps that are allowed to send notifications to your wrist, monitor your heart rate at specific time intervals, and more. There are reminders that can be set up for drinking water regularly or moving about when you are sitting idle too. Almost all of these are basic functionalities that you can expect on any smartwatch. Then there are the standard music playback controls, camera controller (taking selfies), Find My Phone, Weather, and software update options. I did notice that quite a few times, the Watch S disconnected from my phone for no apparent reason but after regaining connection, all the data got synchronised with the app.
Coming to the meat of the matter, the Realme Watch S monitors steps and calories burnt accurately, and the results I got from the wearable were in-line with my more expensive OPPO Watch. The addition of SpO2 monitoring is a nice touch too, as the feature has become crucial in these trying times. While the readings from the same were not as accurate as a standard pulse oximeter, it did give me a rough idea of oxygen saturation levels in my blood. There is no in-built GPS inside the watch, which is understandable given the price point, but it can leverage the one inside your phone to give a near-accurate map of the distance you covered while out for a jog.
The Realme Watch S also offers separate tracking for a variety of different activities such as Outdoor run, Walk, Cycling, Lifting Weights, Aerobic workout as well as for sports activities including Football, Basketball, Badminton, and Cricket. Sleep tracking also worked as well as can be expected with there being a slight margin of error every now and then. The device's IP68 certification means that it is water-resistant but there is still no tracking for swimming activities. Heart rate measuring can be set up at continuous intervals and alerts can be set up if the pulse goes up a specified level.
Now, given the wearable's wallet-friendly price tag of Rs 4,999, there are bound to be a few features that are not going to make the cut. Answering calls on your watch is one of them. There is no microphone on the device but you do get a notification whenever someone's calling you and you can choose to answer or reject the call from the watch's interface itself. There is no always-on display either, which can be expected due to the LCD panel on the device. Even so, the raise to wake feature works perfectly well. You can also view notifications on your Watch but at the moment there is no way to reply directly from your Watch S. Realme is said to be bringing this functionality in a future software update.
The Watch S, like the previous Realme Watch, runs a proprietary OS by Realme. It provides to-the-point functionality and rarely did I see any kind of lag or a complete freeze of the UI. Everything runs smoothly and the swipes are registered correctly. For example, right-swiping from the home screen will take you to different windows one after the other. Here you can check your activity data, sleep cycle, heart rate, weather, and settings. However, do note that you won't be able to install any third-party apps on the wearable.
The Watch S also happens to have an excellent battery life which can be accredited to a lack of battery consuming features and the Watch S' judicious power management. While I had the smartwatch on my wrist daily, I only had to charge it once about two weeks, typically after a 12-day period. During this time, I took out the Watch S daily for jogging while the device was monitoring my heart rate, tracking my sleep and the brightness was set at auto. If I were to put the Watch S on battery saver mode, where it will only display the time and steps taken, the device is quite easily capable of going on for more than a couple of weeks.
Final Verdict
I can see the Realme Watch S being a hit amongst users who would like to experience a smartwatch but have budget constraints. The watch offers all the basic functionalities of fitness tracking and then some with blood oxygen monitoring, sleep tracking, and more. You do get the likes of Huami Amazfit Bip S or the NoiseFit Sport under Rs 5,000. Personally, if you want a really good battery life along with a reliable UI, fast performance, and a tidy app that ties everything together, the Watch S is an option definitely worth considering. The Amazfit Bip S gets some points thanks to its significantly better battery life and more fitness tracking features, but in my opinion, it lacks the aesthetics of the Realme Watch S.
Editor's rating: 4 / 5
Pros:
Great battery life
Attractive design
Smooth user experience
Cons:
Sleep tracking can be iffy
Could have used an AMOLED panel